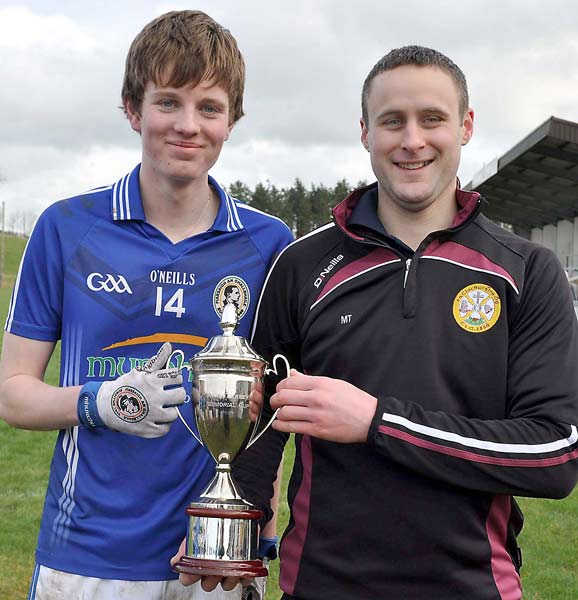 The now Annual Ryan Tierney U.18 Memorial Tournament, organised by the Clogher Éire Óg Gaels, is due to take place on Sunday 15 February 2015. The U-18 Blitz group stages will be played at St. Patrick's Park Clogher and the finals of the Shield and Ryan Tierney Perpetual Cup will be played that afternoon at the same venue. Last year Galbally won the title for the first time defeating Loughmaccrory in a thrilling final.
In the Shield Final, Gael Naomh Phádraig shared the trophy with Fintona after a nasty injury to one of the Gael Naomh Phádraig players after only a few minutes meant the game had to be abandoned.
Holders Galbally will return to compete for the 3rd year and they are keen to hold onto their title. Speaking ahead of the competition a club official stated that winning the Ryan Tierney Cup last year was a fantastic launch pad for our minor team's in preparation for the start of the Minor League. Backboned by 4 of the current Tyrone Minor Panel, Galbally will start as favourites to retain their title. They will look to Conor Donnelly, Daniel Kerr, Liam Rafferty and Colin Donnelly to steer them to victory.
This tournament comes at the right time of the season for the competing teams and acts as great preparation for the Tyrone Minor League campaign which starts a week later. The competition is professionally run and the Clogher Club ensures a well structured tournament that allows teams to test themselves against teams from neighbouring counties.
By tyronepro
Mon 2nd Feb