With the looming vote on Europe and the ongoing oscillations of the economy at local, regional and national level, it is important to be better informed on those issues which will impact hardest your business.
With that in mind, Club Tyrone are delighted to present their successful business-networking event, "The Business of Winning" which takes place on Thursday 23rd June at the GAA Centre in Garvaghey, Co Tyrone.
Now in it's third year, "The Business of Winning" is a breakfast event which brings together leaders in business to discuss and debate the big economic issues and present strategies on how to protect and grow your business in these challenging trading times.
"The GAA has a great tradition of bringing together people, through sport, language and culture. We have long recognised the importance of business – both local and national, in maintaining the legacy of what we do here in Tyrone at club and county level," said Mark Conway Chairperson of Club Tyrone.
"The Business of Winning" is a platform to introduce like-minded business people to meet to discuss the big issues of the day. It is an excellent opportunity to learn from some of the best in their field and also an excellent opportunity to network amongst like minded people."
The event starts at 7.30am with a breakfast buffet, with the event proper running from 8.00am – 10.15am.
The event is free to attend but spaces are limited.
More details of speakers to follow on the Tyrone GAA website, local media and on all social media channels.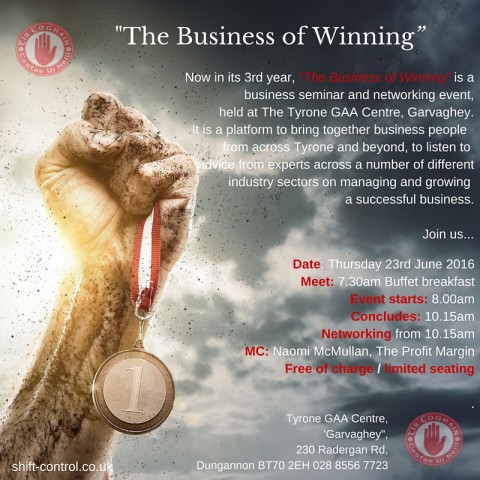 By tyronepro
Thu 2nd Jun