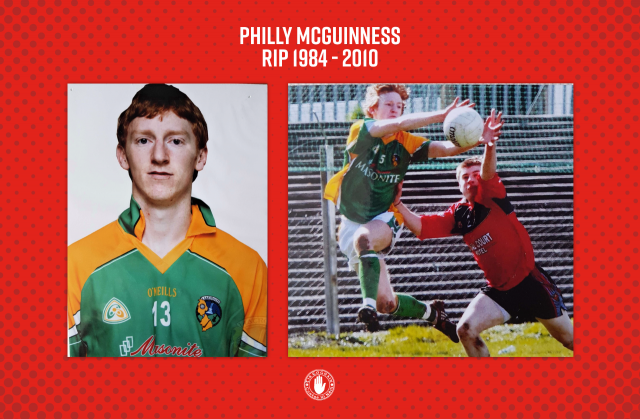 Philip Mc Guinness 29/02/1984 – 19/04/2010 RIP
When Philip Mc Guinness suffered a serious injury that Saturday evening in a Senior league match against Melvin Gaels, everyone in Mohill and Kinlough were hoping that he was just concussed and that he would quickly recover. We were very concerned when he was transferred from Sligo Hospital to Beaumont Hospital. On the Sunday morning our worst fears were realised when news reached us that Philly suffered horrific brain injuries and was gravely ill. Philly's playing colleagues were devastated, disconsolate and inconsolable. Gloom descended on the whole locality. By lunch time a convoy of cars bearing Philly's playing colleagues and friends had travelled to Dublin to offer support and comfort and support to Philomena, Philly's lovely gentle mother and to his brothers John and Michael and to pay a visit and bid a last farewell to their injured colleague Philly. In the visiting room beside the ICU ward, the grief was palpable. One could not but be hugely impressed with Philly's playing colleagues for their solidarity, support and comforting of the family over the following days. They proved themselves to be young men of great character. Philip Mc Guinness went to his eternal reward on Monday afternoon and his family kindly donated his organs.
How does one pay tribute to Philip Mc Guinness or Philly as he was affectionately known? Philip was held in very high regard by all his team mates and mentors at club and County level.
He was a magnificent footballer. This is hardly surprising considering the sporting environment in which he was reared. His late father was a brilliant ball player as a footballer and hurler and this was acknowledged when Michael Mc Guinness was selected at full forward on the Leitrim Millennium team.
Michael instilled a love of Gaelic sports in his three sons who became great players; each of them wearing the Mohill and Leitrim jersey at all levels with pride and distinction. Philomena offered them great encouragement to develop their skills. The boys had a tyre against the wall and there was daily competition to see who could score most and when young Philly came along he proved to be most competitive.
Two Mohill club stalwarts, Tom Lynch and Gerry Bohan introduced Philly to team play at under 12 and U.14 level with dad Michael lending support. Peter Logan, John Dugdale and Matt Gaffney guided Philly through under 16, minor, under 21 and into senior football. Philly represented Leitrim at all underage levels and was acknowledged as one of the best young talents in the Provence when he was selected on the Connaught under 17 team to tour Australia in 2001.
His studies were not neglected and after attending the local national school the three Mc Guinness brothers attended Drumshanbo Vocational school where their father was a brilliant and much loved science teacher. Here Philly continued his football prowess and also became a very accomplished volleyball player winning all Ireland titles with his school. Philly later attended Dublin Institute of Technology and qualified as an Engineer and for a number of years has been a valuable employee of Mercury Engineering based in Belmullet.
You might ask what qualities made Philly such a great player?
Simply he was a born player, a natural, extremely skilful, had perfected all the skills, an excellent two sided player and he had speed, agility, quickness, balance and good vision and was a tremendously brave competitor, displaying a never say die attitude.
The former Leitrim team Manager Mickey Moran saw Philly as every coach's dream player, Mickey stated, "You know you would hardly know Philly was in the dressing room, but he was transformed when he entered the playing arena"
Philly had a wonderful attitude and the more intensity there was in training the better Philly revelled in it. He was totally dedicated to his training and made the twice weekly journey from Belmullet to where ever Leitrim training took place, be it in Leitrim, Cavan, Mullingar often a round trip of up to 300 miles. His fitness levels were very high, he had a great engine which enabled him to cover acres of ground during games. I think it's fair to say that Philly has been Leitrim's outstanding performer for the two years before his tragic death and at 26 years he still hadn't reached his peak – the best had yet to come, he had many years of great football in him. In his last game in the Leitrim jersey against Limerick, Philly was head and shoulders over every other Leitrim player on the field.
The highlight of his club career was undoubtedly winning a great County Senior Championship medal in 2006. Philly was one of the stars that day and thankfully Philly had the memory of that brilliant victory to sustain him during the three and a half years of life left to him. The weight of history was on him that day as Mohill bridged a thirty five year gap to 1971 when his father stared in the last Mohill team to win the Senior Championship.
To his playing colleagues Philly was a priceless treasure; always positive and encouraging, a born leader, leading by example at all times and his infectious enthusiasm rubbed off on his colleagues. His commitment to his colleagues was total, unfailing and genuine. He had a tremendous rapport with his colleagues and his personal qualities were such that colleagues and opponents alike forged lasting bonds of friendship with him.
To the youngsters of Mohill and Leitrim Philly was the perfect role model, youngsters adored him, they all wanted to be Philly Mc Guinness.
Although Philly has gone from the sporting arena now, the enormous contribution he made to the GAA in Mohill and Leitrim is a lasting and fitting legacy to his memory
Away from the football field Philly was one of the most gracious, gentle and courteous of human beings who had time for everybody. He was shining example to all, his radiant smile, sense of fun and sense of humour endeared him to everybody and each and every one who were lucky enough to known Philly have been greatly enriched by knowing him.
While mourning the tremendous loss we also celebrate Philly's life and we will always treasure the time we shared with him. We thank him for his friendship and his sporting prowess. The many wonderful memories we have of Philly are now our only consolation.
Although Philly may be gone from our midst we know that Philly will always be a football immortal in Mohill and Leitrim through his marvellous achievements on the sporting fields of Leitrim and further afield and he paid the ultimate price for the Gaelic games and the Association he loved so much.
The Philly Mc Guinness Cup being played for today in Mohill is a fitting memory to a Great Young Mohill Gael and it in some ways helps perpetuate his memory.
He was a magnificent young man, a prince of Mohill and Leitrim football, Philly Mc Guinness R.I.P.
19/04/2010.
By tyronepro
Sat 15th Jun