History will be made on Saturday 30th January when Moy lad Seán Lynch takes to the stage at the INEC Gleneagle Hotel, Killarney, county Kerry and becomes the first ever An Mhaigh Tír na nÓg member to appear in the All-Ireland Scór na nÓg Final.
The 2015 Tyrone and Ulster champion for Aithriseoireacht / Recitation will carry the hopes of his club, county and province at this prestigious national event. As excitement grows in the Moy, a number of club members are preparing to join the Lynch family in making the long journey south to support Seán in this weekend's Final.
Seán has already created history by becoming the first Moy club member to win a Tyrone and Ulster Scór na nÓg title, with a series of outstanding performances at county and provincial level. Now, he is on the verge of achieving possible All-Ireland glory but will face extremely stiff competition from the champions of Connacht, Leinster and Munster.
Whatever happens in Killarney this weekend, Seán has already done his club and county proud. The newly-elected An Mhaigh GAC Cultural Officer, who took over the position from his sister Caoimhe at the end of last year, has also done much to promote Scór in his local community and hails from a family who are steeped in Irish culture.
So, how did Seán first come to be interested in Scór? "I have been a playing member of An Mhaigh G.A.C. since the age of three-years-old", he says. "It wasn't until four years ago, when a number of acts were entered into Scór na nÓg that I realised how much the GAA also promotes and encourages all aspects of our culture – music, literature, dance as well as sport.
"This is only my second year competing in Scór na nÓg. Last year I reached the county semi-final for Aithriseoireacht (Recitation) and I was a member of our club team that got to the county final for tráth na gceist (quiz). This year I also succeeded in making it to the county semi-final as a member of the tráth na gceist team."
Seán has enjoyed an amazing run in the 2015/16 Scór na nÓg, starting out in the Moy at the opening round stage of the Tyrone competition. Dressed in full uniform, he has impressed the adjudicators and wowed the large audiences in Tyrone and Ulster with his outstanding recital of Pádraig Pearse's oration at O'Donovan Rossa's graveside.
"I have performed in the Moy, Carrickmore, Killeeshil, Galbally and
Silverbridge on my way to the All-Ireland Final", says Seán. "I decided to choose my piece as it was the 100th anniversary of the graveside oration for O'Donovan Rossa by Pádraig Pearse. I also feel the importance and significance of historical literature
doesn't always get the recognition it deserves."
When asked if he has been surprised at his progression to the national final, he replied: "I was shocked to hear "An Mhaigh G.A.C, Seán Ó Loingsigh" read out as
the county winner in Killeeshil. Ever since then my shock and surprise has
continued to mount after every successful round. It is a great honour to represent my county and province but my greatest honour has been to solely represent my club at every round."
Seán continued: "I have been very grateful for the congratulatory and supportive messages offered from people all over the country. I would hope to build on this
successful year by having more acts and supporters next year and, ultimately, more Scór county and Ulster medals."
The All-Ireland Final on Saturday 30th January will be a huge occasion for Seán and his parents Liam and Angela, sister Caoimhe and brother Liam Óg, as well as the Gaels of An Mhaigh Tír na nÓg. We congratulate Seán on reaching the All-Ireland Final and wish him every success this coming weekend.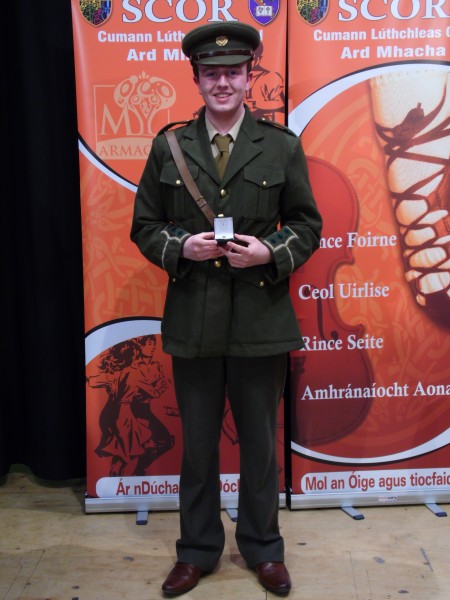 *********
Colin Mackle (P.R.O.)
An Mhaigh Tír na nÓg G.A.C.
Mob: 077 52478618
By tyronepro
Mon 25th Jan