Allianz Cumann na mBunscol Thír Eoghain held their eagerly awaited showpiece – the annual Boys' 5-a-side Indoor Football Final today, Wednesday 8 March, in Cookstown's magnificent MUSA Indoor Arena. Six schools from across the county had each won their respective heats, paving the way for their Tyrone Final appearance. The question needing answered was… Who would be crowned Tyrone Champions 2017?
There was palpable excitement and a buzz of anticipation amongst players, teachers and supporters alike. The footballing prowess on show was undeniable. These boys were to give us a Tyrone Final Day to live long in the memory.
The format of the day's play was based on two sections (A & B) of three teams.
Section 'A' featured St. Patrick's P.S. Dungannon, St. Teresa's P.S. Loughmacrory (2016 Tyrone and Ulster defending Champions) and St. Patrick's P.S. Donaghmore. A high-quality section saw these teams play each other. There was never much between the teams. Indeed, all of them played their hearts out. Master Declan Muldoon saw his brave Dungannon lads narrowly miss out on a semi-final berth despite playing some tremendous football. Instead, it was Donaghmore and Loughmacrory who qualified as Section 'A' Runners-up and Group Winners, respectively.
Section 'B' pitched Holy Family P.S. Omagh, Tummery P.S. Dromore and St. Patrick's P.S. Roan, Eglish, in a high calibre group. Another closely-fought Section underlined the tightness of these groups. A gallant Holy Family P.S. team, led by Fermanagh star Declan McCusker, experienced a similar fate to Dungannon, when they were narrowly denied a semi-final place. As the group ended, Tummery qualified as Section Runners-Up (by a single point score difference) along with table-toppers, Roan. Dungannon and Holy Family P.S. are two talented teams. Great credit to them for being amongst the top 6 boys' teams in Co. Tyrone this year!
Our semi-finalists now prepared to do battle. First up we had Section 'A' winners, St. Teresa's P.S. Loughmacrory, against Section 'B' runners-up, Tummery. It proved to be a cracking game of football, but the Loughmacrory lads held off a spirited Tummery team to win by 2:04 to 1:02. Nevertheless, Tummery's former principal Sean Maguire and current principal Hugh Meenagh were two proud men.
The second semi-final was between Section 'B' winners, St. Patrick's P.S. Roan, and their namesakes and Section 'A' runners-up, St. Patrick's P.S. Donaghmore. In an absorbing affair, both teams displayed strong footballing qualities. As things transpired, it was Donaghmore who narrowly prevailed 1:03 to 1:01 to book their place in the county final. Meanwhile, the management duo of Masters McCullagh and Gallagher had guided St. Teresa's P.S. Loughmacrory to the county final against Donaghmore.
Before this final took place, Roan and Tummery found themselves battling for third place – and a silver county medal. There was nothing between the teams, Indeed, it took extra-time to separate them. As typified the day's play, there wasn't more than a kick of the ball between the teams. Masters Maguire and Meenagh saw their Tummery charges give it everything they had. However, on this occasion, Master James Grimley had the satisfaction of seeing his Roan team secure third place and silver county medals on a scoreline of 4:03 to 3:03 (AET). Both teams deserve huge credit and will, no doubt, be back in-the-mix again next year.
The scene was now set for our Tyrone Final. The capture of this prestigious Allianz Cumann na mBunscol Tyrone Boys' Indoor Football Champions 2017 title was now up for grabs. St. Patrick's P.S. Donaghmore (led by Tyrone star Peter Harte) and St. Teresa's P.S. Loughmacrory (led by Mark McCullagh and Mickey Gallagher) were to serve up a classic in a repeat of last year's final.
Both of our finalists expended every drop of energy in a huge effort to land the coveted trophy. An incredible game of football ensued. The standard of goalkeeping, blocks and interceptions was of a high order. Goals were always going to be at a premium. Points would prove decisive. The match ebbed one way and then the other. However, by the narrowest of margins, a 0:04 – 0:03 victory for the talented boys from Loughmacrory proved enough to deprive a battling Donaghmore team on the day. It takes two teams to make a great final, and these wonderful players from Donaghmore and Master Harte should be immensely proud of their endeavours. A county gold medal was just reward for their incredible efforts.
As for the victorious team, Master McCullagh and Master Gallagher – and their triumphant Loughmacrory P.S. lads – can now bask in the glory of this tremendous accomplishment. The title of Allianz Cumann na mBunscol Tyrone Boys' Indoor Football Champions 2017 is thoroughly well deserved – considering this is a superb back-to-back county success. Precious boxed gold medals will forever be cherished.
Next up for St. Teresa's is a tilt at the Boys' Ulster Championship on 29 March, Magherafelt. There is absolutely no reason why Loughmacrory can't go on and retain their Ulster crown. Everyone associated with Allianz Cumann na mBunscol Tyrone certainly wishes them well in their quest for further glory. Ádh mór oraibh!
A word of thanks to Allianz Cumann na mBunscol Tyrone Director of Games (Niall McQuaid), Brian McGurk (Chairman), Damian Kelly (committee) and Eddie Doris (Rúnaí & PRO) for ensuring the smooth running of this very successful competition. Ulster Officers Mickey Quinn and Pat McGivern also provided invaluable assistance throughout. Thanks, also, to Stevie McNamee, Brian McGinn, Sean McCartan and Marty Devlin for their expert refereeing throughout the various heats.
Finally, our appreciation goes to the friendly, efficient staff at MUSA.
Bring on Ulster!!!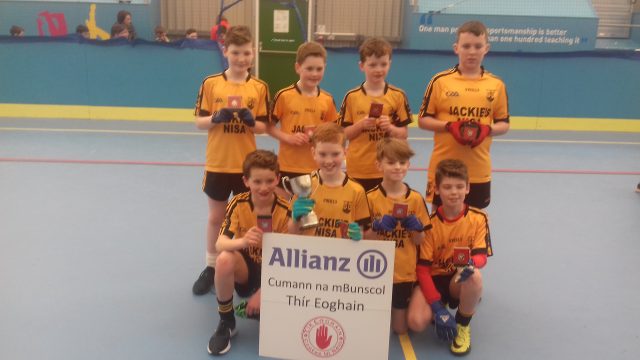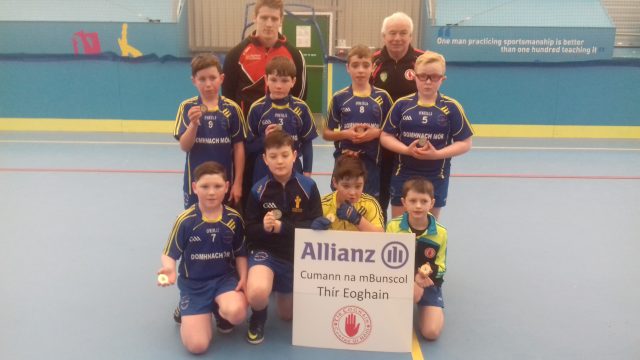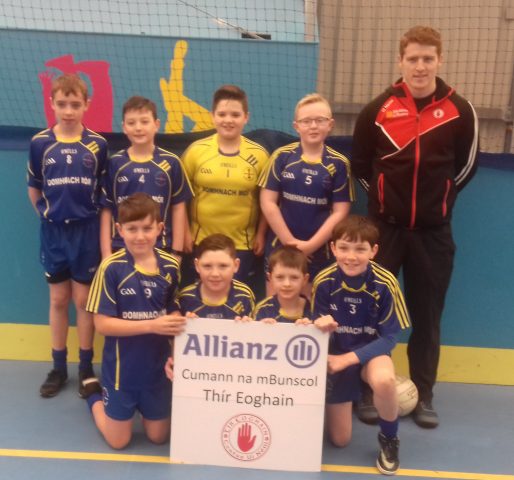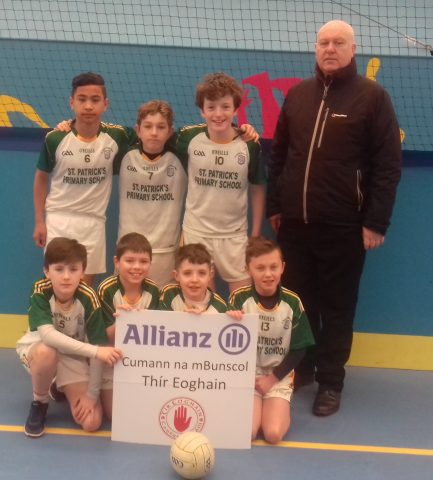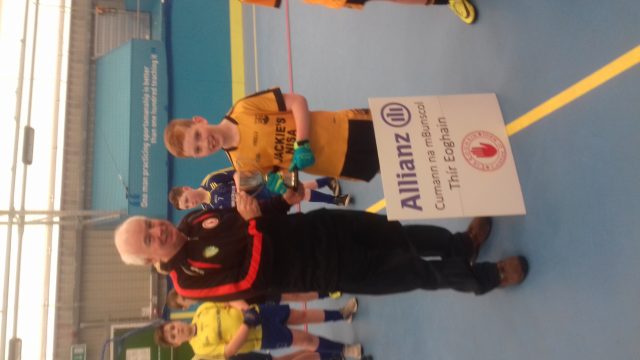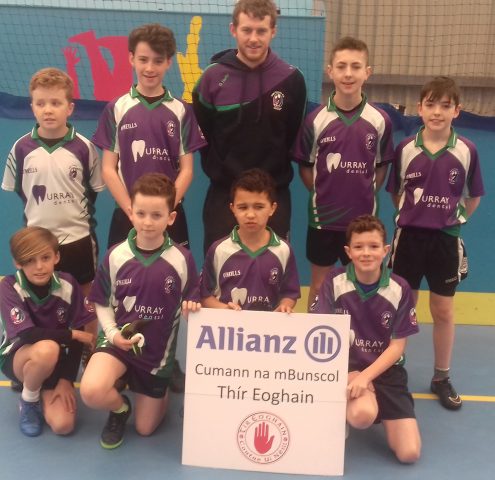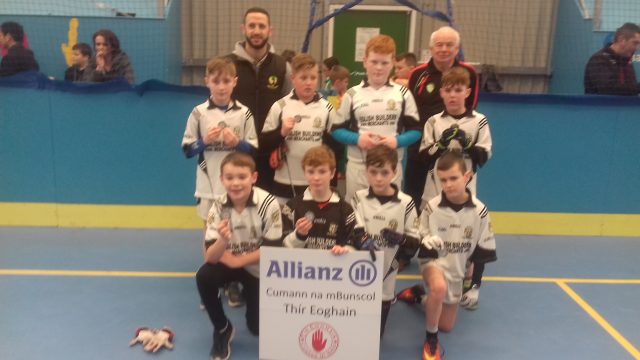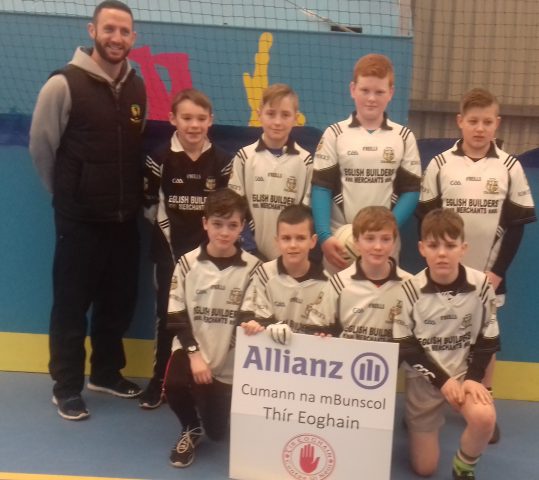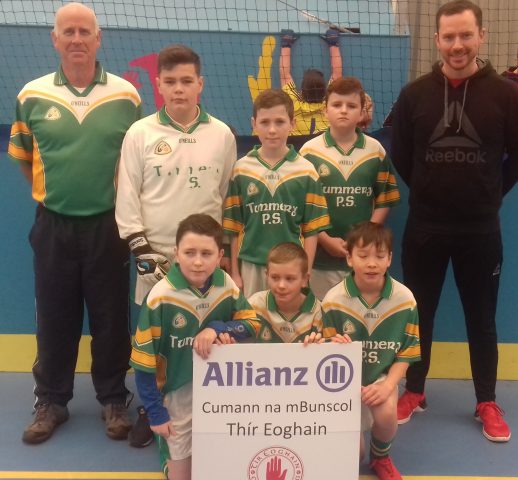 By tyronepro
Wed 8th Mar