Allianz Cumann na mBunscol Thír Eoghain held their eagerly awaited annual Girls' 5-a-side Indoor Football Tyrone Final today, Friday 6th March, in Omagh's superb Station Centre. Six schools from across the county had each won their respective heats, paving the way for their Tyrone Final appearance. The question on everyone's lips was… Who will be crowned Tyrone Champions 2015?
The footballing prowess on show was undeniable. These girls were to give us a Tyrone Final Day to live long in the memory.
The format of the day's play was altered from a two-section competition to a round-robin series of games, after the unfortunate withdrawal of Gaelscoil Uí Néill – due to unforeseen circumstances beyond their control.
A high quality competition saw the remaining 5 teams who had qualified from their regional heats play each other. There was never much between the teams. Indeed, all of them played their hearts out for the cause. Master McGurk saw his brave St. Patrick's PS Castlederg girls narrowly miss out despite playing some tremendous football. Also going close to glory were the girls from St. Dympna's PS, Dromore, and our 2014 Defending Champions from St. Peter's PS, Moortown, led by Master Sean O' Neill and Mrs. Martina Devlin, respectively. Indeed, having an identical win record meant they had to play-off for 3rd place. After a pulsating game, it was the girls from the loughshore who prevailed, thus securing a top-three slot in the county and a coveted silver County medal. The Moortown girls were worthy title holders, and to follow up last year's County win with a third-placed finish is no mean achievement.
The Dromore girls, meanwhile, can be very proud of finishing in the top 4 out of almost 100 primary schools in Tyrone. Maith sibh!
At this stage, it had become apparent that the destination of the 2015 County Title was going to be between two schools. A brilliant St. Mary's PS Cabragh team, led by Masters Kelly and McKenna, and an equally talented team from St. Columbkille's PS, Carrickmore, were both intent on capturing the crown…
Both of these giants of primary school Girls' Football had recorded three wins apiece, and the scene was set for a winner-takes-all duel – a mouth-watering prospect.
The capture of this prestigious Allianz Cumann na mBunscol Tyrone Girls' Indoor Football Champions 2015 title was now there for the taking.
An incredible game of football ensued. Both teams expended every ounce of energy in a huge effort the land this highly sought-after trophy. The match ebbed one way and then the other. Ultimately, the Cabragh girls just couldn't find a way past a determined Carmen rearguard, and it was the Carrickmore girls who triumphed on a 3:0 scoreline.
This proved enough to deprive the battling Cabragh girls on the day – but these wonderful players from Cabragh should be immensely proud of their endeavours in this tournament. Gold County medals are just reward for their unyielding efforts!
As for the victorious team, Master Emmet O'Neill, Sara McElroy and their triumphant Carrickmore girls can now bask in the glory of this tremendous accomplishment. The title of Allianz Cumann na mBunscol Tyrone Girls' Indoor Football Champions 2015 is well deserved. Carrickmore certainly had a year to remember, as they produced teams in the boys and girls Indoor Football competition that each reached the county final. That is some achievement!
Next up for them is a tilt at the Ulster Championship title next month.
Everyone associated with Allianz Cumann na mBunscol Thír Eoghain certainly wishes them well in their quest for further glory. Ádh mór
A word of thanks to Allianz Cumann na mBunscol Tyrone Chairman, Brian McGurk; Secretary & PRO, Eddie Doris, and Director of Games, Niall McQuaid, for organising this very successful competition. Our thanks, also, to Stephen McNamee, Marty Devlin & Sean McCartan for their expert refereeing throughout the various heats. A special word of thanks to Anne Daly (Tyrone Games Development Administrator) who conducted today's medal and trophy presentation.
Finally, our appreciation goes to the friendly, efficient staff at Omagh Station Centre.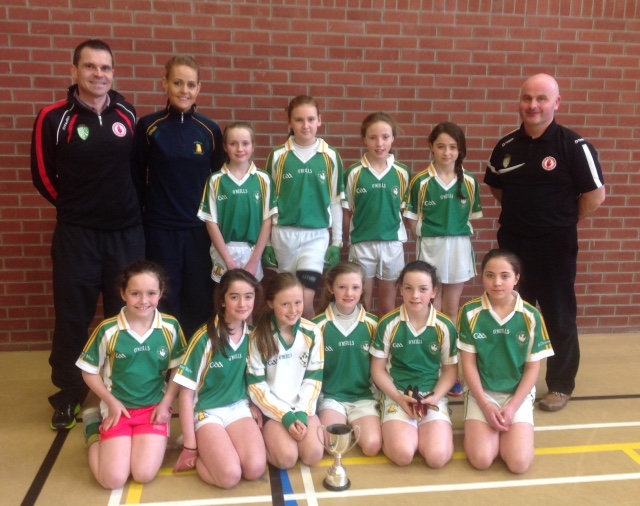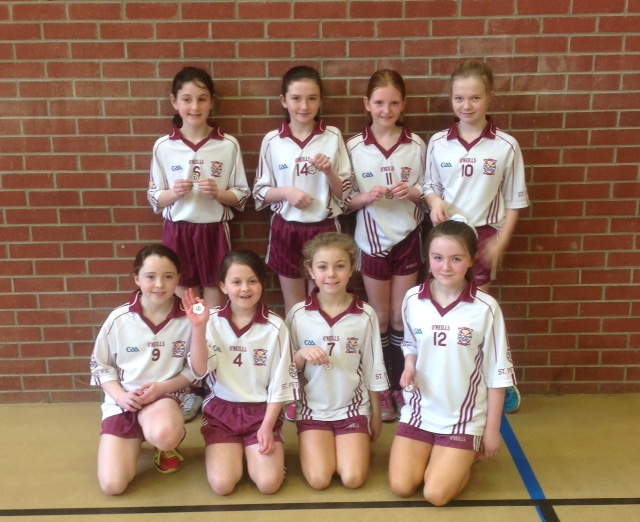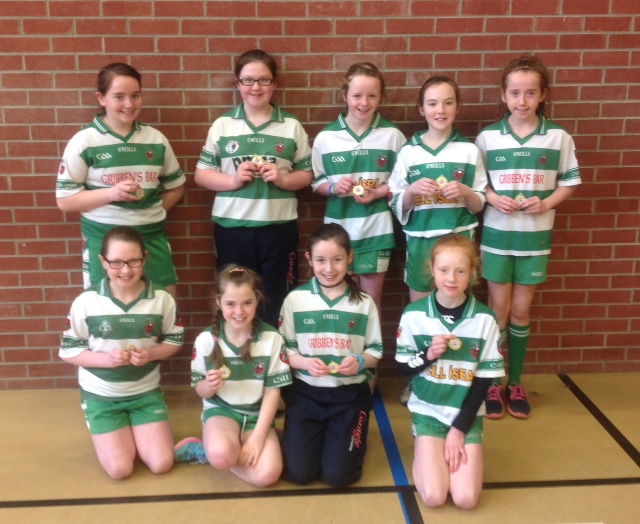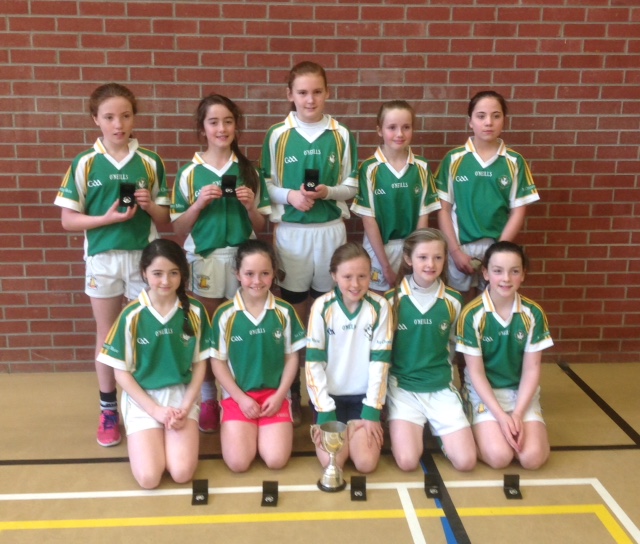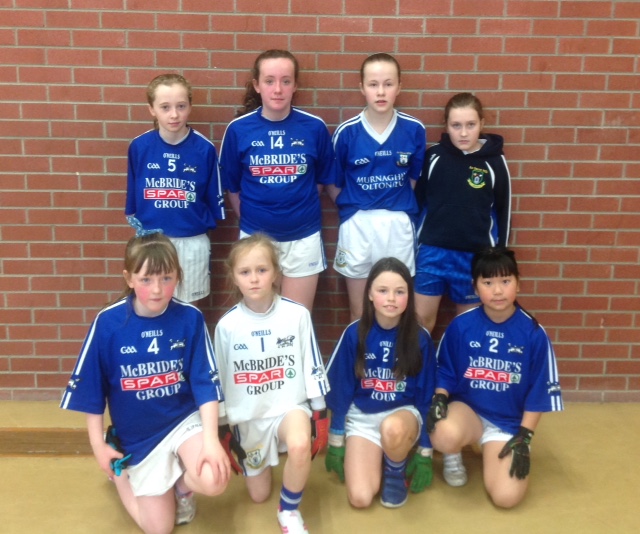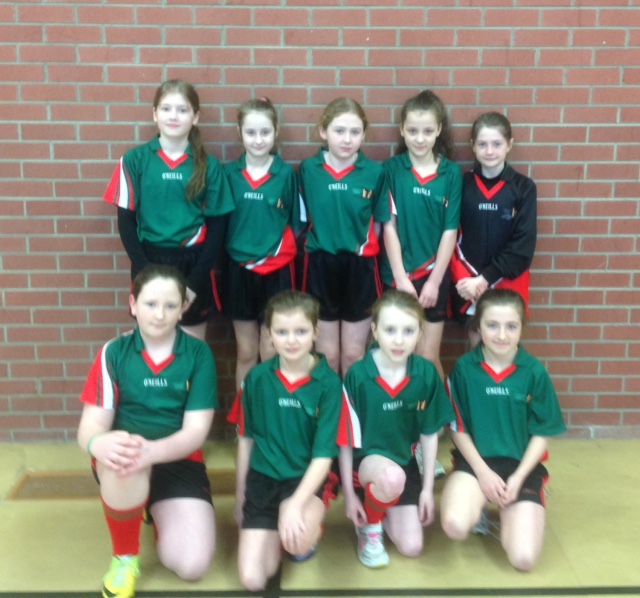 By tyronepro
Fri 6th Mar