Sean Hurson, from the Galbally Pearses Club has been appointed to Referee this years All Ireland Football Final between Galway V. Kerry. Sean took up the whistle in 2008 and has progressed up through the ranks over the past 14 years. This appointment is a worthy recognition for Sean's dedication to refereeing.
Sean is married to Aileen and they have three children Lily Mae, Danny and Aggie. Sean asisde from his refereeing duties for his beloved Galbally Club is also heavily involved in the Club Committe serving on the Executive Committee and doubling up as a Youth team coach.
The  full list of major appointments at which Sean has been the man in the middle are as follows –
Finals Officiated
✅Tyrone JFC Final – 2012
✅Tyrone IFC Final – 2013
✅Tyrone SFC Finals (x3), =2014, 2016, 2018
✅Hogan Cup Final, – 2017
✅Ulster Club Finals (x2) 2019, 2016
✅ All Ireland Intermediate Club, – 2015
✅All Ireland Club Final 2022
✅All Ireland Minor Final 2018
✅All Ireland U.20 Final 2021
✅Div 3 NFL Final – 2014
✅Div 2 NFL Final – 2018
✅Leinster Final 2019
✅Connaught Final 2020
✅Ulster Final 2022
Sean's trusted team of Umpires who will accompany him onto the hallowed turf of Croke Park will be, Martin Coney, Mel Taggart, Martin Conway, Cathal Forbes. Another regular loyal Umpire who was a part of his team was Big Dermot McCaffrey, who sadly passed away in February 2019. a week before Dermot passed away he had given Sean a One Pound Punt coin which had Sean's initials engraved on the coin and Dermot informed Sean that each time he used the coin to decide the toss between the two captains he would be there watching down and keeping an eye on proceedings. For every game since the coin is passed amongst his team of umpires and is present during all the matches.
The last Tyrone man to referee and All Ireland Football Final was the great Paddy Devlin who in 1972 refereed the All Ireland Replay between Kerry V. Offlay and Paddy again took charge in 1974 when Dubiln played Galway.
Sean has refereed every final in Tyrone at both Adult & Youth levels apart from the Gr. 1 U.14 Championship Final while at National level Sean Sean has never refereed the Munster Senior Football Championship Final. The only other major Final to evade Sean is the Ulster Colleges McRory Cup Final, which Sean was to officiate at in 2020 but Covid put an end to that appointment.
Sean is extremely Proud to have been chosen to Referee the 2022 All Iremand Final and as a dedicated Galbally and Tyrone Gael, he paid a special mention to other Galbally Gaels who acted as Club Referees over the years namely Mick Mc Caughey RIP, Patsy Murphy, Plunkett Mc Crory, Niall Corrigan, Patrick Mc Geary, Brian Kelly. They went before him and he has since followed in their footsteps.
All Tyrone Gaels want to send on their Congratulations and best wishes to Sean and his team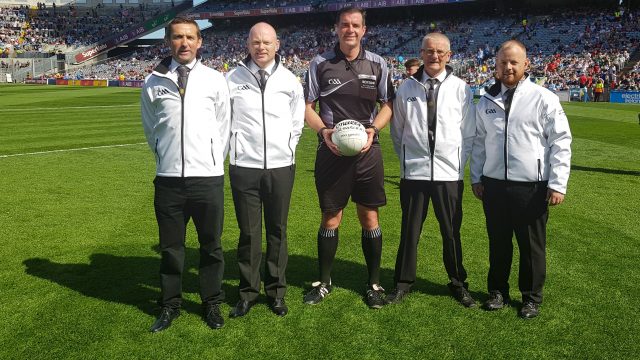 Sean Hurson with his trusted team of Umpires L – R, Martin "Rab" Conway, Cathal Forbes, Martin Coney, Mel Taggart.
By tyronepro
Wed 13th Jul