One of the major highlights in the local running calendar gets under way in just over two week's time.
The Beragh 5 Mile Road Race and 5K Fun Run/Walk takes place at noon on Saturday April 15 this year.
The popular community event includes two separate routes through the scenic Mid Tyrone countryside.
Based at Beragh Red Knight's GAA grounds, the fully chip-timed event has in recent years attracted some of the best running talent across the region.
However at its core, the Beragh 5 remains a community driven event for all ages and abilities.
Race co-ordinator Adrian Donnelly said the event continues to attract large crowds every year.
"We pride ourselves in hosting one of the best organised road race events in Ulster and the growing number of participants has reflected that.
"We launched a new couch to 5K programme in the build up to this year's run, helping more people push themselves towards taking on the five mile route.
"But at its heart, the Beragh 5 remains a brilliant day out for all the family."
SSE is the main sponsor for this year's event. The nominated charity for the Beragh 5 in 2017 is Chest Heart and Stroke.
Beragh GAA club chairman Seamus Boyle said, "A tremendous effort goes in ever year by our dedicated members and organising committee to produce the Beragh 5.
"I would like to extend my thanks to all our sponsors for their continuing support and encourage everyone to come down to St Mary's Park on April 15 for what will be another fantastic community event."
Registration for the Beragh 5 takes place on Friday April 14 at 7-9pm in St Mary's Park Pavilion.
Entry fee for the five mile run is £10 or £12 on race day. The fee for the 5K is £7.
The first 250 to register for the five mile event receive a T-shirt, with head buffs for the first 250 entrants for the 5K.
A prize will be on offer for breaking Kenyan athlete Vincent Kiprotich's 24:51 course record.
For further information, contact adonnelly5@btinternet.com or 0776 1610 828.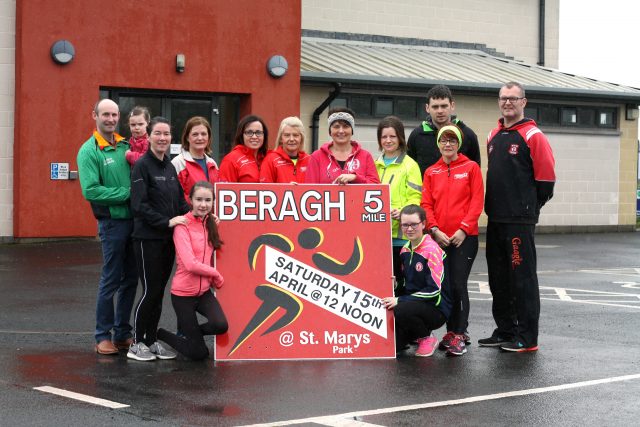 By tyronepro
Thu 30th Mar