Our second annual cultural weekend 2016 will take place in the Pavilion at St Mary's Park, Beragh next weekend – Fri 4th and Saturday 5th November.
On Saturday night (5th November) at 7:30 pm we will have a Gala Concert with a host of local people displaying a flavour of the talent in the young and the old of Beragh.
Our concert was a great success last year and we promise to make this one even better!
This is also a chance to see our Scór competitors as they embark on another year of competition for the pride of our parish. We have tin whistle and drama classes in the Club and all students will perform on the night.
Admission is £5 for adults, children free.
If anyone wishes to take part, please contact any Club official.
We are also pleased to announce a series of Historical discussions led by our Historian, Alan Rodgers. On Friday Night (4th November) at 7:30 noted historian Donal Mc Anallen will deliver a talk on the Louis O'Connor Tapes – The Sixmilecross Connection. Alan Rodgers will then talk about "The Wolfe Tones and Red Knights – Gaelic Games and Culture 100 Years Ago".
The purpose of this weekend is to create self confidence in our Culture. We encourage you all to attend the honest endeavour of our own.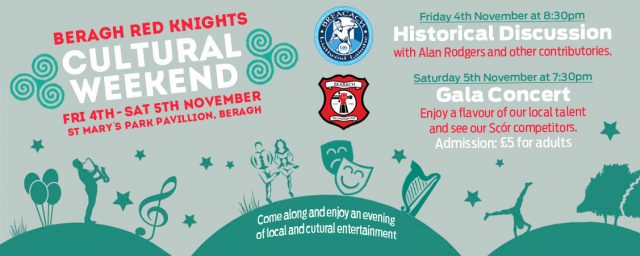 By tyronepro
Mon 31st Oct