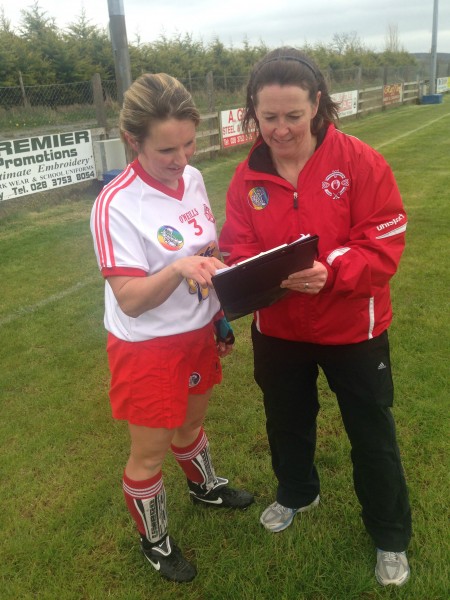 Armagh club Ballymacnab were the opponents on Sunday for the Tyrone senior camogs in a friendly for preparation for next week's Irish Daily Star National camogie league Division 4 semi-final. The Red Hands will play Limerick who booked their place with a convincing win over Dublin III's last Sunday. The game will be played at a half way venue which will be confirmed on Monday morning. Tyrone hosted Limerick in the first round of fixtures at the end of February when the Shannon siders came away with the points in Garvaghey. It was a disappointing start to the league campaign but Tyrone captain Julie Lagan believes that Tyrone have improved in many areas of their game
"Limerick caught us early in season when none of our clubs were out training at that stage. I believe the win is there for the taking but we will win not underestimating our opponents by any means. It should be very close game."
A win would see Tyrone progress to consecutive finals in as many years. The team will train in Garvaghey on Tuesday evening from 7:00 to 8:30 before the crunch tie on Sunday.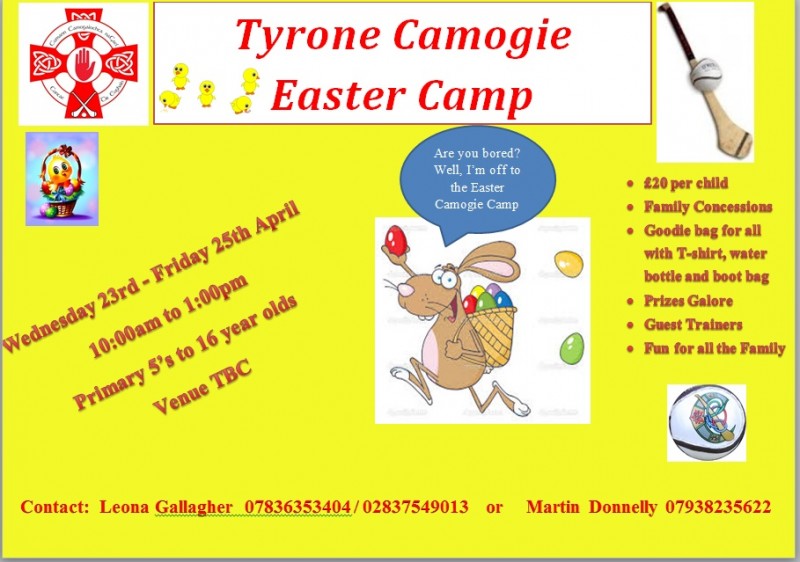 Tyrone camogie will run an Easter camp for primary 5's to 16 year olds over the school holiday period. The camp will run from Wednesday 23rd to Friday 25th April from 10:00am to 1:00pm at a venue to be decided. The original venue is no longer available and clubs will be advised of a suitable venue soon. There will be guest coaches taking the three days of the camp. It is anticipated that there will be huge numbers of players wishing to avail of a place. Every player will receive a tee-shirt, water bottle and a boot bag. There will be lots of prizes awarded by the coaches over the three days. The cost will be £20 per child with a family of two costing £35 and three players will cost £45. If anyone has any questions please contact Leona Gallagher on 07836353404/02837549023 or Martin Donnelly 07938235622.
The next wheelchair hurling/camogie session in Belfast takes place on Wednesday the 23rd of April 8-9pm in Shaftesbury Recreation Centre.
The All-Ireland Inter-provincial blitz competition takes places on the 26th of April in Andersonstown Leisure Centre with the first game starting at 10:30am.
More details on the blitz will be given out at training on the Wednesday night.
If you know of anyone else who would like to come along and have a go at camogie please invite them along, they will be very welcome!
The Tyrone camogie youth leagues are well under way. Dungannon, Éire Og and Eglish all had wins in the under 14 league and father Shields of Greencastle winning run continued in the post Primary section. There is a full round of under 14 and post primary fixtures in the coming week.
By tyronepro
Mon 14th Apr