The Gaels of Clogher Éire Óg's have organised one of the biggest Golf Classics to be staged at Omagh Golf Club. The Classic will take place on Friday 21st July. To date up the interest amongst golfing enthusiasts has been amazing.
Over 30 four-ball teams have entered the race to clinch what has been described as some of the top prizes ever on offer to the golfing followers in a four-ball Classic.
Top Prize is the chance for 4 players to play the World famous K-Club Course in Co. Kildare, plus overnight accommodation with breakfast.
The 4 Runners–up will get the chance to test their golfing skills at the Carton House Golf Club with overnight "B & B" provided.
The team finishing third will get the opportunity to play a four-ball at the Great Northern Golf Course in Bundoran, while the fourth placed team will be able to tee off when they like at the popular Slieve Russell Golf Course in Co Cavan.
In fifth place, the lucky 4 will have to chance to try out one of Dublin's top Championship golf Courses at St. Margaret's beside Dublin Airport, which has played host to the Irish P.G.A. competitions.
On top of this array of prizes there is the golden opportunity to win a brand new car for a Hole in One. Added to this marvellous list of unbelievable prizes will be a range of Golfing gear sponsored by the World renown golf supplier "Bushnell" and these will go to the player nearest the Pin as well as the player hitting the Longest Drive.
Every player taking part will receive a meal after their game has concluded in the award winning restaurant attached to the Golf Club.
There are still a few Tee-off times available to those last minute golfing enthusiasts who wish to enter the competition, they can contact either Eugene McConnell on 028 855 48189 or 07775532917 plus Sean McCaughey on 028 855 49723.
Presentations- The various winners will receive their Prizes at a special function in the Omagh Golf Club on the Friday night 21st starting at 9.30pm. All the winners are expected to attend. There will be a special Celebrity Guest on hand to help present the awards.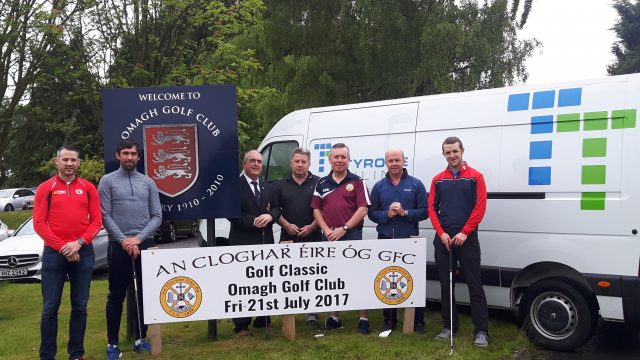 By tyronepro
Mon 29th May