On July 6th 2017 the Clogher Éire Ógs will depart these shores for the trip of a lifetime to the USA.
A party of 24 Players, Management and Committee members will fly from Dublin airport to JFK Airport in New York.
The nature of the trip is to take part in the Grand Official opening of Rockland GAA Clubrooms and facilities just outside Pearl River New York. The Éire Ógs will play the host Club Rockland in a Challenge game on Sat 9th July. The teams will compete for the Robert Mc Kieran Cup in memory of a young Rockland Gael killed tragically in a car accident some years ago.
As part of the weekend Festival there will also be a special exhibition game involving All Stars/Legends Exhibition Match – Leinster/Ulster Vs Munster/Connacht.
The Ulster panel consists of: Paddy Bradley (Derry), Henry Downey (Derry), Paul Finlay (Monaghan), Owen Mulligan (Tyrone), Brian McGuigan (Tyrone), Peter Canavan (Tyrone), Brian Dooher (Tyrone), Aaron Kernan (Armagh), Oisin McConville (Armagh), James McCartan (Down) and Colm McFadden (Donegal).
The Leinster panel consists of: Graham Geraghty (Meath), Matty Forde (Wexford), Andy Comerford (Kilkenny) and Martin Comerford (Kilkenny). The team manager for the Ulster/Leinster team is Brian Mullins (Dublin).
The Connacht panel consists of: Eamonn O'Hara (Sligo), Ciaran McDonald (Mayo), Conor Mortimer (Mayo), Padraic Joyce (Galway), Declan Meehan (Galway) and Frankie Dolan (Roscommon).
The Munster panel consists of: Tomas O'Se (Kerry), William Kirby (Kerry), Paul Galvin (Kerry), Tommy Griffin (Kerry), Dara O'Cinneide (Kerry), Declan Browne (Tipperary), Eamonn Corcoran (Tipperary), Shane McGrath (Tipperary), Sean Og O'hAlpin (Cork) and Ken McGrath (Waterford). The team manager for Connacht/Munster is Billy Morgan (Cork).
Officiating the match will be All Ireland referee, Pat McEnaney, from County Monaghan.
The GAA President Aoghan O'Farrell will be on hand to Officially open the New facilities as well as numerous other Gaels from all over Ireland and the USA.
Speaking ahead of the Trip Club Secretary Eugene Mc Connell stated "The trip has been in the planning for almost a year and everyone is looking forward to representing the Club and our County at this important event for Rockland GAA."
Continuing Eugene stated we have a strong tie with Rockland in that our former Clubman and senior player Brian Pearson is one of the key drivers within the Rockland Club and what was only an idea 12 months ago suddenly became a reality and all the travelling party has self financed the trip. It is an historic occasion for our Club and we hope to do ourselves proud.
The Rockland Club is made up of many former Tyrone men who are now domiciled in the USA, such as Matty Mc Kenna, Club Chairman and Emmett Woods both staunch Pomeroy men. They are a very progressive Club and provide not only Football, Hurling plus Camogie and Ladies football at all levels. They have also just recently employed a full time Development Officer to help coach and look after all aspects of GAA development within their Club.
The Clogher Gaels have been very lucky to receive some welcome sponsorship from the Mellon Country Inn and New York based company SSC Highrise Construction Company. They have very kindly come on board to sponsor our Club gear which the travelling party will wear during their trip to the USA.
The week long trip will provide some lasting memories and help build up some new friendships. The strong Tyrone connections living in Pearl River will no doubt provide a warm welcome for all the Éire Ógs.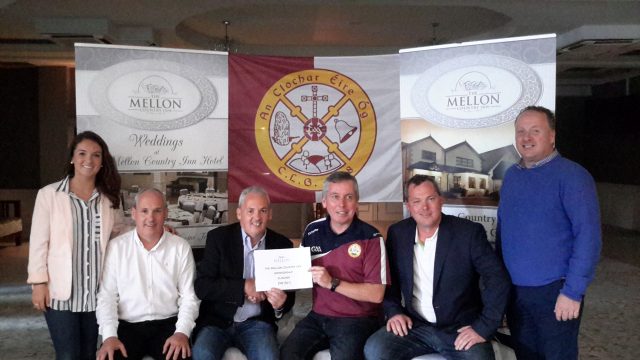 Michael and Timmy Mahoney, who also recently bought over the Mellon Country Inn, hand over a Sponsorship cheque to Club secretary Eugene Mc Connell.
Also in the photo are Gemma Mahoney Duty Manager at the Mellon Country Inn plus Patrick Mahoney and Sam Mullan.
Itinerary:
Friday July 7th
6:00pm – GAA All Stars/Legends Skills competition
6:30pm – Rockland U17 Hurling match
8:00pm – Rockland Junior Football match
8:00pm – Pearl River School of Irish Music, Inishfree School of Irish Dance
9:00pm – JOANIE MADDEN & CHERISH THE LADIES
Saturday July 8th
9:00am to 2:30pm – Dennis McHugh U-8 football tournament (30 teams entered)
9:30am to 6:30pm – All Rockland GAA Underage Girls & Boys Football, Hurling & Camogie Vs local NYMB/G4G teams and teams traveling from Philadelphia, Boston & Atlanta
3:30pm – FDNY vs NYPD Football
4:00pm – Pearl River School of Irish Music, Verlin School of Irish Dance
5:00pm – Interstate Hurling match – Rockland Junior team Vs Allentown, PA
5:00 pm – Country Music with KICKIN' NASH
6:30pm – Robert McKiernan Cup – Rockland Vs Clogher Eire Og, County Tyrone
7:00pm – Direct from Ireland – THE WHISTLIN' DONKEYS
9:00pm – Pearl River's Very Own – THE NARROWBACKS
Sunday July 9th
9:00am – Mass in the Pavilion
10:00am – Connacht Final, Shown Live in the Pavilion from Ireland
12:00pm – Rockland Ladies Gaelic Football match
1:30pm – Poc Fada – Opened by Gerry Adams
1:30pm – NYGAA Ladies Senior Gaelic Football – Cavan Vs Kerry/Donegal
1:30pm – PRIDE OF MOYVANE CEILI BAND
2:00 pm – IRELAND THE BAND
3:00pm – NYGAA Men's Senior Gaelic Football – Donegal Vs Monaghan
3:00pm – Broesler School of Irish Dance
3:30pm – Traditional Irish music with GIRSA
4:30pm – The official Opening Ceremony of the clubhouse will be conducted by the President of the Gaelic Athletic Association, visiting from Ireland, Aogan O'Fearghail
5:30pm – All Stars/Legends Exhibition Match – Leinster/Ulster Vs Munster/Connacht
7:00pm – FERGAL HAYES & JOHN McDONOUGH Band
8:00pm – MICKEY COLEMAN Band
9:00pm – MICHAEL O SULLIVAN Band
Admission for the Weekend:
$ 50.00 – Weekend Pass
$ 20.00 – Daily Pass
Children under the age of 18 – FREE
For further information, please contact the following:
Club Chairman – Marty McKenna (917) 804-3843
Grand Opening Chairman – Paul Rowley (646) 739-1706
Grand Opening Chairman – Emmett Woods (914) 804-8466
By tyronepro
Fri 30th Jun