Celebrating our national holiday kicks off to an amazing start, with a multitude of top award winning musicians playing to get feet tapping and hands clapping into the St Patricks Weekend. The concert, showcasing the best of All Ireland talent, will be held in Derrytresk on Thursday 16 March, home of the All Ireland Scor Winners. Without doubt one of the highlights will be Niall Hanna, Rachel McGarrity, Michael Coney and Alanna Campbell, returning once more to their home base to entertain the crowd since being crowned All Ireland winners last April. The concert will be also showcasing the established talent of singer Cathal O'Neill, himself an All Ireland Winner. Cathal will be performing songs from his latest album, "Inherited", shortlisted for the recent Trad Album of the Year. And then there is Ciaran Hanna, a very talented whistle, flute and concertina player. Ciaran won the All Ireland Fleadh in 2014, playing with the Knockmore Ceili Band, and was also a winner in the solo category, playing concertina.
But it's not just the established top musicians who will be performing. Young musicians from across the area will also be cutting their musical teeth on stage too. These townlands are nurturing the performers of the future. At this concert, we could see the beginnings of more All Ireland Winners.
The St Patricks Festival is a recognition of culture and the rich textures of song and music that has emanated from the area for generations. Maybe it's the air around these Lough shore townlands that inspires so many musicians; maybe it's in the genes, who knows? Music is in the blood here; it's the sound that lifts an audience away from the daily humdrum of life, and transports everyone to a place of delight and wonder. As Niall says "There is beauty and emotion in music; it transcends the everyday, connecting people and groups to their memories, or indeed, creating new memories; that's why I am so passionate about playing and performing. It's great to be able to entertain too; to lift the mood of an audience, to see them enjoying our creativity."
Cathal added "We invite from people around the country to come along and enjoy the concert, and to start the long weekend here. There truly is something magical to experience and enjoy. We are keen to ensure this is an event for everyone, that both youngsters and adults can be entertained and inspired. We extend a Cead Mile Fáilte to all visitors; they will undoubtedly leave with positive, lasting memories of an evening that celebrates our national holiday and Ireland as a land of song."
The future of music and song looks secure, and it promises to be an exciting evening of making and creating new memories for everyone. Be part of it too.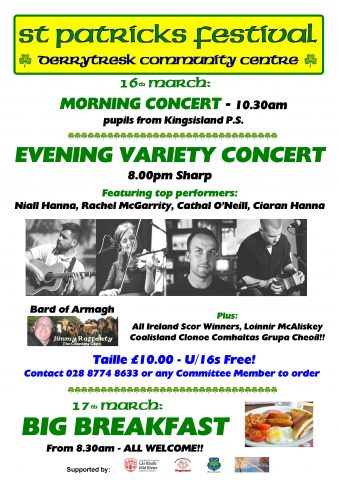 By tyronepro
Mon 13th Mar