The Tyrone Communications Committee produce a Bumper Double Edition 48 pages full colour Digital Online Match Day programme for the LCC Group Intermediate & Senior Championship Finals.
County PRO, Eugene McConnell speaking ahead of this weekends Intermediate & Senior Finals stated that all supporters won't be disappointed with a specially designed Double Edition Match Day programme which will be available to download from The Official Tyrone GAA Website.
Last weekend, Tyrone Communications Committee created a little piece of history when the first ever Full Colour 28 pages Digital on line version programme was produced for the Senior County Hurling Final.
A record 2,843 went on line to download the Hurling Final Programme and this week the huge popularity of the Double feast of Championship Football involving Gortin V. Edendork and Dungannon V. Trillick is sure to generate every bit as much interest amongst the GAA Fans and Supporters.
The Digital online version is now available at a cost of £2. Click Here to Purchase your digital Copy
The Programme contains a host of interesting information, full of stats, plus all the usual details associated with County Final Day. There is also a special article on the 25th Anniversary Team An Charraig Mhór, looking back on their success a quarter of a Century ago.
2020 has been a Strange and Difficult year and there is No Doubt this Digital Version will prove a real Collectors item.
In conclusion, Eugene stated last weeks online programme proved a massive success and this weekend our second online version will equally prove as popular. I want to thank everyone who assisted and helped to make it possible. Don't Miss Out make sure to get your Copy!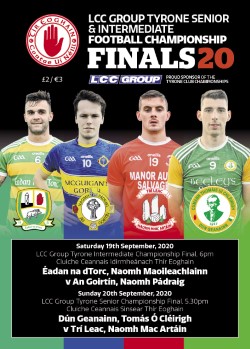 By tyronepro
Thu 17th Sep