As part of a province wide tour Dungannon Thomas Clarke GAA in association with Domino's Pizza presents:
A cracker of a Christmas comedy ' Deck the Falls' in the Bardic Theatre on 30th December starring Ciaran Nolan (from cult Irish movie Man about Dog) and Gerard Jordan (The Fall and Game of Thrones).
Tickets available from; www.bardictheatre.com/box-office or by telephone 028 8772 5286 or in person at Stewart's Music Shop, Irish Street.
Sell out anticipated so book early to avoid disappointment.
Deck the Falls: What's the story?
It's Christmas time, the season of goodwill, time for family and friends, time for giving, time for reflection… Dead On … It's time to party!!! Time to Deck the Falls!!! You need only one thing……a bankroll, a few shekels, a bit of cabbage and a bit of Robert! A bit of Robert???!!
Join a hoot of characters as they journey in search of the elusive Robert: 2 doormen have a cunning plan, 2 doggy men have a dilemma, 2 auld dolls have an epiphany and 2 greyhounds go on the run. And that's just the first half.
Ciaran Nolan and Gerard Jordan have plans, scams and skulduggery to Deck the Falls this Christmas.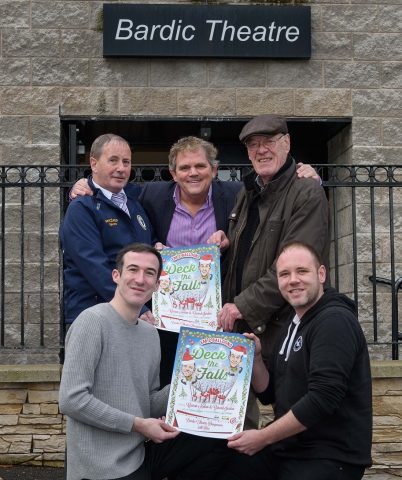 Adrian Logan well known in media circles and hard working member of Dungannon Clarkes ,Michael Corrigan, Vice Chairman Dungannon Clarkes , Sean Faloon, Bardic Theatre and the stars of Deck the Falls – Ciaran Nolan and Gerard Jordan

By tyronepro
Fri 18th Nov