Members of the Eglish Community will take to the stage next weekend Sat 22nd and Sun 23rd Oct to give you "Eglish Goes GA GAA" Presented by Eglish St. Patricks G.A.A.
An eclectic look at the Irish culture told through music, dance, sketches and song and also showcasing songs from the 60's, 70's, 80's, 90's and noughties. Rock, Pop, Trad, Country there is song and dance on offer to satisfy everyone's taste.
Directed by Bronagh Murtagh and Choreographed by Lauren Hamill this promises to be a night to remember. Bronagh Murtagh had this to say "We are so excited for next weekend. What a bunch of truly talented people we have in Eglish. The performance is very much inter-generational with our youngest cast member being only 6 years old. Our Cast are working their socks off in preparation for next weekend. Come along and show your support".
We promise the audience are in for a real treat. Compered by D.J Country Rose, who joins us fresh from "Farmer Joe", a hilarious and beautifully written play by Brian McMahon.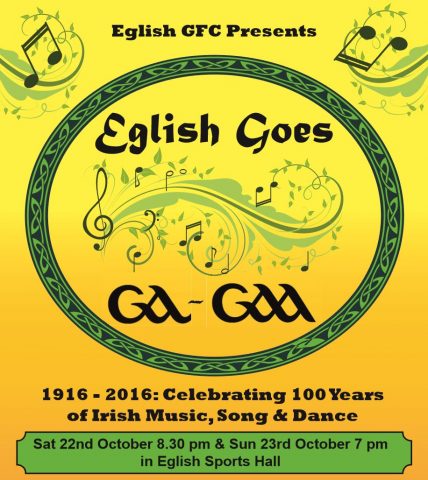 By tyronepro
Tue 11th Oct