McCrory and McBride star on Irish Junior Nationals weekend
The curtain came down on the 40×20 handball season at the weekend with a massive weekend of Juniors action in the 2015 Irish Junior 40×20 Nationals. Tyrone handballers went into the weekend with high hopes of a big showing and certainly did so in what must rank as one of the most competitive junior nationals events to date.
What made the 2015 event even more special was the fact that six title winners would also secure a place on Team Ireland for the 2015 World Handball Championships, scheduled for Calgary (Canada) in August 2015. Thos blue ribband places are very special indeed with just six junior places up for grabs every three years. Tyrone claimed one of those slots for the 2015 Worlds and it went to hugely impressive Girls 17& Under singles champion, Breacach's Eilise McCrory.
The Girls 17 & Under event had seen the top 16 players in the country qualify for the nationals finals weekend, which was the same in all grades. Eilise, who had lost out in the All Ireland Minor singles and doubles championship finals three weeks earlier, went into the grade as number four seed but she belied those odds with a series of fantastic "serve and shooting" displays that were of the highest calibre. In round one she faced Clare's Clodagh Nash, one of the doubles partnership which she had lost out to in that All Ireland final and she delivered her customary attacking style to win 21-4, 21-5. In the quarter finals Eilise had to dig deep against a very talented Tipperary opponent, Sinead Meagher, winning out in the end by 21-19, 21-16.
That set up a semi final with Galway's Eimear Ní Bhiadha, after the Inverin club player had caused a surprise by knocking out the number 1 seed, Roscommon's Fiona Tully, in their last eight match. The Galway teenager was very much on top early on too and did lead by 13-1 and 16-10 before McCrory really came into her own with an all out attacking burst which saw her net 11 of the next 12 aces to win 21-17. She followed up with a 21-13 win in the second to set up a Nationals final test against Armagh's Niamh Coleman. The Clann Eireann player had also caused a stir with her impressive tie-break victory over Clare's Doireann Murphy, the sam player who had won the All Ireland Minor Singles championship title, defeating Eilise McCrory by 21-10, 21-8 in that decider. There is no doubt she was up against it in the final but what followed was undoubtedly Eilise's best ever performance and one of the most impressive of the tournament overall as she delivered a series of inch-perfect low serves and followed up with sensational pinpoint corner kills. Despite a brave rally from the athletic Armagh player, who had won four world championship gold medals at the 2012 World in Dublin, she was always chasing a game in which McCrory was at her very best and she ran out the winner by 21-10, 21-4.
That victory secured the Tyrone players place on the Official Team Ireland for this Summer's World Handball Championships in Canada. She was joined on the Worlds team then by Clare's Colin Corbett (Boys 19 & Under Singles), Wexford's Daniel Kavanagh (Boys 17 & Under Singles), Clare's Tiarnan Agnew (Boys 15 & Under Singles), Galway's Ciana Ní Churraoin (Girls 19 & Under Singles) and Limerick's Catriona Millane (Girls 15 & Under Singles). So far Westmeath's Robbie McCarthy and Antrim's Aisling Reilly have been confirmed as the Mens and Ladies Team captains on the Official Team Ireland following their All Ireland senior wins. The Mens and Ladies Open Doubles trials this weekend ahead will decide a further four places. The last four places will then be decided at the One Wall Nationals in July with the Mens and Ladies Open singles winners and Boys and Girls 19 & Under winners also joining Team Ireland.
McBride makes impressive mark
Tyrone also celebrated success at the Irish Junior 40×20 Nationals at the weekend in the Boys 13 & Under event courtesy of number 1 seed, Lorcan McBride. The Carrickmore player was a most impressive winner of the 2015 All Ireland Under 14 singles championship title and would have been ranked a raging hot favourite for this grade going into the weekend. He powered past his opponents again with a 15-2, 15-5 win over Kilkenny's Billy O'Neill in round 1, claimed a quarter final victory by 15-5, 15-0 against Tipperary's Conor O'Dwyer in the quarter finals, defeated Kilkenny's Kyle Dunne by 15-1, 15-6 in the semi finals and secured the title with a 15-6, 15-4 win against Clare's Mark Rodgers in the Boys 13 & Under final. This completed a most impressive twelve months for the gifted teenager.
Elsewhere for Tyrone there were two players who reached Junior Nationals finals.
In the Girls 19 & Under event, Breacach's Maeve McElduff overcame Laois' Niamh Dunne to set up a final against one of the tope senior players in the country, Ciana Ní Churraoin. The Galway player was red hot in the final though and, despite a fine performance from Maeve, she lost out by 21-7, 21-8 in the final. Loughmacrory's Aoife Kelly had lost out to the Galway player in the other semi final of that grade.
In the Girls 11 & Under grade, Carrickmore's Clodagh Munroe teamed up with Antrim's Clodhna Philips and fell to the Galway/Clare partnership of Sadhbh Ní Fhlaithearta and Chloe Philpott in the final by 15-13, 15-13. Carrickmore's Clodagh McNamee and Breacach's Dervla Farley lost out to the eventual winners in the semi final stage by 15-9, 15-6. Loughmacrory's Dearbhail Fox and Niamh Curran lost to Tipperary in the event and went on to win the Girls 11 & Under doubles plate competition.
Tyrone's Junior Nationals semi finalists over the weekend included Sean Kerr (boys 17 and under), Antoin Fox (boys 15 and under), Johnny Woods (boys 19 and under), Ryan Mullan (boys 19 and under), Caitlin Conway (girls 13 and under) and Elizabeth McGarvey (girls 13 and under) on a weekend when the standard was exceptionally high across all grades.
In the Boys 19 & under competition, eventually won by Clare's Colin Corbett following a thrilling final against Monaghan's Darren Doherty, Tyrone had three competitors in all. Pol Clarke fell to fellow county colleague, Ryan Mullan, by 21-14, 21-19. Mullan then lost out at the semi final stages to Monaghan's Darren Doherty by 21-17, 21-4. Johnny Woods also lost at the penultimate stage of the series when he bowed out to eventual champion, Corbett, by 21-15, 21-9.
At 17 & Under level, Breacach's Sean Kerr had an epic tussle with Clare's Fergal Coughlan before losing out at the semi finals by 21-19, 8-21, 7-11. The event was won in the end by Wexford's Daniel Kavanagh. Breacach's Turlough Clarke was a first round loser against All Ireland Minor champion, Mayo's Niall Joyce.
The Boys 15 & Under grade was one of the most competitive of the weekend and Loughmacrory's Antoin Fox fared best of the Tyrone challenge as he reached the semi final stages, only to lose out to All Ireland Under 16 singles champion, Galway's Peter Donohue by 21-19, 21-16. The outright title was won by Clare's Tiarnan Agnew, who defeated Donohue by 21-13, 21-5 in the final. Tyrone also had two players in the quarter final stages with Ciaran Cuddy puting up a great showing against the eventual champion, Tiarnan Agnew, losing out 15-13, 15-4. Darragh Canavan was an unlucky quarter final loser to Cork's Cian O'Driscoll as he fell by the minimum margin, 11-10 in the tie-break game. Loughmacrory's Ronan Curran also lost to O'Driscoll in the event, at the last sixteen stage by 15-6, 15-9.
The Girls 13 & Under had three strong Tyrone contenders in Loughmacrory's Caitlin Conway and Mairead Fox and Breacach's Elizabeth McGarvey. Fox fell to the impressive outright winer, Galway's Niamh Heffernan by 15-2, 15-7 while Heffernan also overcame Caitlin Conway at the semi final stages in a great game by 15-8, 15-6. Eizabeth McGarvey also lost at the semi final stages to Kildare's Mollie Dagg by 15-4, 15-14, having gone very close to setting up a tie-break game in that match.
In the Girls 15 & Under grade Tyrone had tow contenders in Breacach's Michaela McCartan and Carrickmore's Ciara Mullan. McCartan put in a solid display against Clare's Bridin Dinane, losing out in the quarter finals by 15-10, 15-5 while Mullan was also a quarter final loser to Kildare's Leah Doyle by 15-12, 15-11.
Overall it was a fantastic weekend of handball and Tyrone were very strongly represented on the finals weekend tournament with Tyrone handballers having qualified and putting in strong challenges in all ten grades of action at the weekend.
The winners roll of honour (by county) after the weekend read Clare 3, Galway 3, Tyrone 2, Kilkenny 1, Wexford 1, Limerick 1. The runners-up over the weekend by county read Tyrone 2, Clare 2, Armagh 2, Roscommon 1, Galway 1, Monaghan 1, Antrim 1, Kildare 1.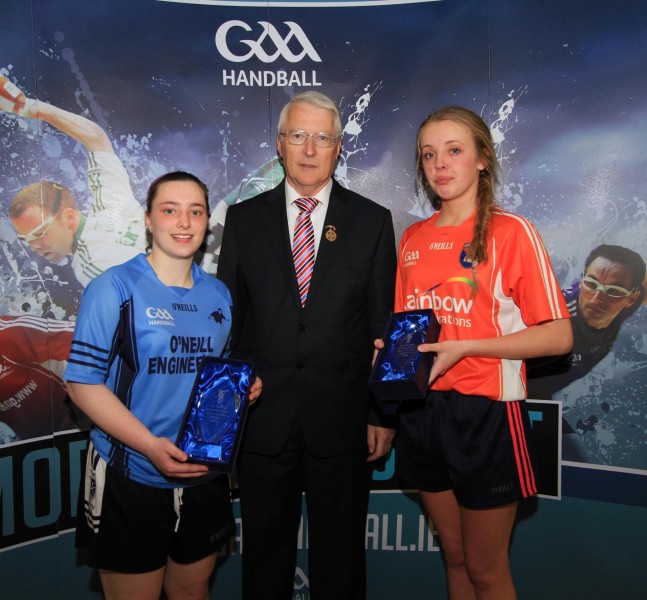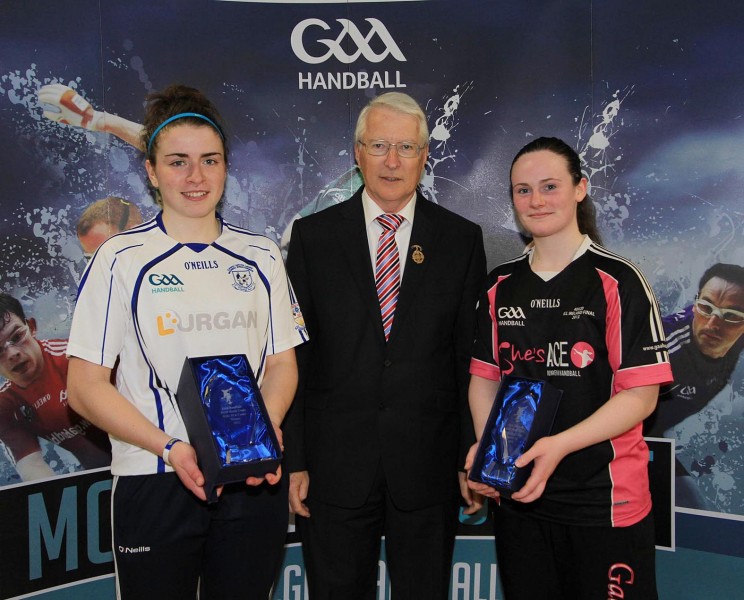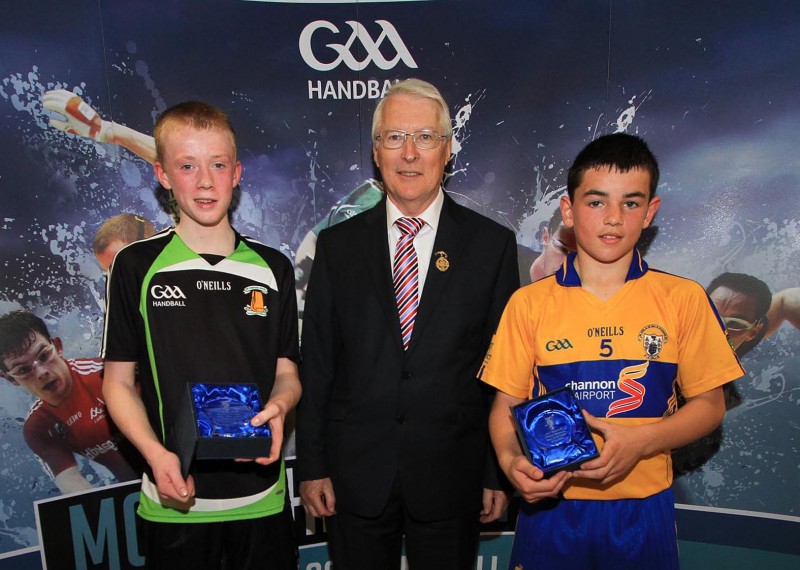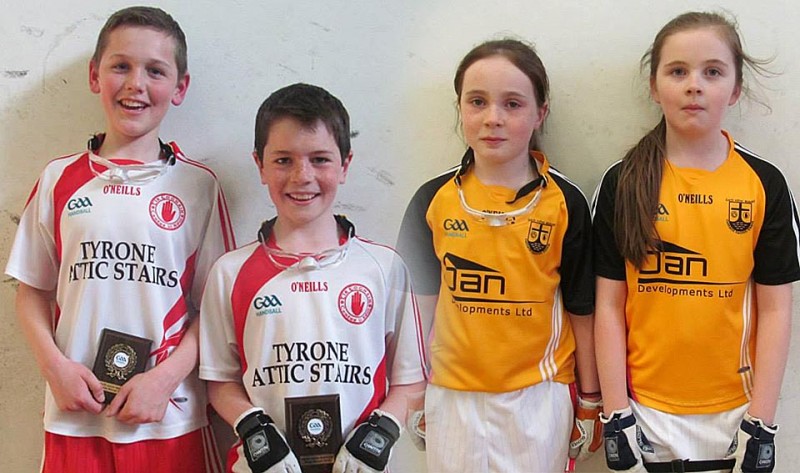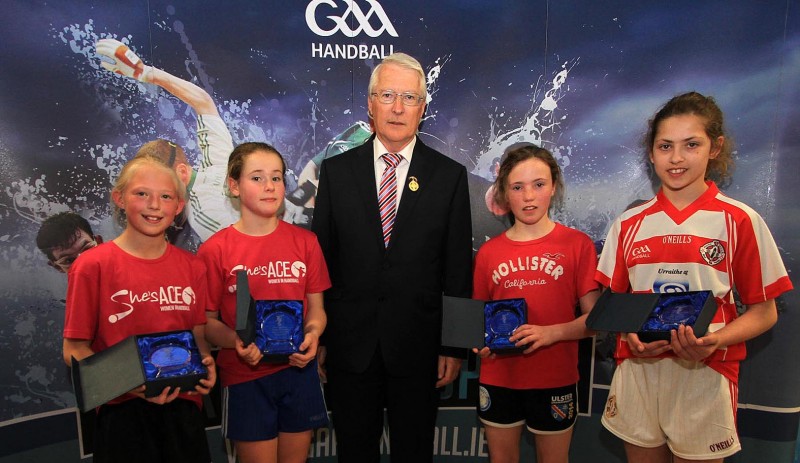 By tyronepro
Fri 24th Apr