Back by popular demand for 2017 is Gortin's Halloween Festival – SperrinFest, with another three days of activities, and something in store for all age groups.
The weekend kicks off with some Family Halloween Festivities in the Owenkillew Community Centre on Friday 27th October that will see a selection of traditional Halloween Trick or Treat games for the children to enjoy, a Halloween Trail, tasty bites and many more activities. Doors open at 7pm.
On Saturday 28th October will be the big event, where almost thirty pairs will battle it out and hope to beat "The £1,000 Drop" at the Gortin Rouskey Social Centre. This will be followed by widely renowned Comedy Hypnotist, Dale Thomas, and Music to Late. Doors open 7.45pm, with 8pm start.
The Weekend will conclude on Sunday 29th October with the Big Bingo, also taking place in the Gortin Rouskey Social Centre, with doors opening at 3pm. Total payout off over £2,500 and one £1,000 House guaranteed to be won.
SperrinFest 2017 is part of Gortin St Patrick's GAA Club Annual programme of events which are organised in conjunction with Badoney Ladies GAA, and Owenkillew Community Centre to keep the local community vibrant and entertained.
Club Chairman Fergal Daly said, "This is the fifth year of Gortin SperrinFest in conjunction with Badoney Ladies and the Community Centre, and we hope this will be a big as success as other years. Last year was a massive hit with over fifty entrants taking on "The Kube" and local man, Pete O'Neill walking away with the £1,000 Prize. With almost thirty pairs, and sixty people in total entering "The £1,000 Drop" so far this year, we are in for another great night. A special added treat this year is the inclusion of widely renowned Comedy Hypnotist, Dale Thomas, who will be putting on a show for our audience members. Dale is known throughout the length and breadth of the country, so we look forward to seeing him in action."
"This promises to be a fantastic weekend, and we extend a massive welcome to everyone in the community and outside Gortin to come along and support this great weekend as a tribute to the hard work of our extraordinary volunteers."
Tickets for The £1,000 Drop are now on sale at various Gortin retail outlets at a cost of £12 each. More details are available on Facebook at GortinSperrinFest.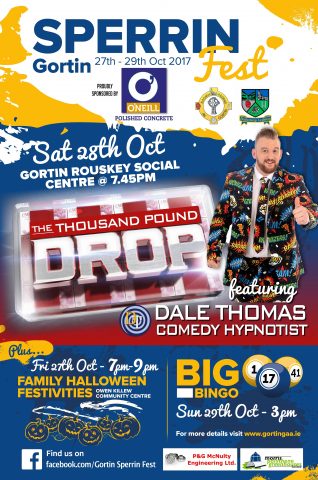 By tyronepro
Fri 20th Oct