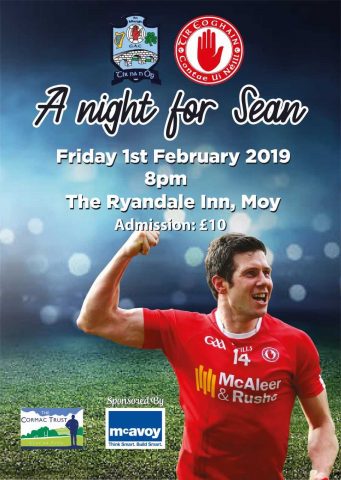 A sea of well-known names within the wider GAA family will descend upon the Ryandale , in the small village of the Moy, this Friday night (1st February) at 8.00pm to honour the legendary Sean Cavanagh for his commitment and dedication to inter-county football .
Organised and run by his local home club, An Mhaigh Tír na nÓg, club chairman Francie McQuade said "We are very proud of Sean and what he has achieved in his inter-county career. He has represented his county at the highest level, made the club proud, and honoured its name and ethos with pride and integrity. For that, we will be forever grateful.
By hosting a night like this, it is a small way of saying thank you to Sean. The club held a similar night for Ryan Mellon and Philip Jordan when they retired from inter-county football in 2013. It was a great night and people still talk about meeting the likes of Tomás Ó Sé and Padraig Joyce. The Moy club has had a strong tradition of players representing their county down through the years and, as we look to the youth of the club, we endeavour to provide many more! We look forward to welcoming GAA stars from all over Ireland who have played the game with Sean and who in someway have been an influence on his career, both on and off the pitch."
Organisers of the event have revealed that among the many distinguished guests attending on the night will be Armagh All-Ireland winners Kieran McGeeney and Paul McGrane and Monaghan legend Paul Finlay. They will be joined by MC Adrian Logan and a number of other surprise guests. A star-studded line-up is guaranteed and this looks set be a night of great value and entertainment.
Admission to the event is £10 and a donation will be made on the night to the "Cormac Trust", a charity chosen by Sean himself. Those with tickets, and those who wish to pay at the door next Friday evening, are advised to come early as seats will be allocated on a first come, first serve basis. Patrons should also note that this event will be starting at 8.00pm sharp. Everyone welcome!
For further information, contact Nuala on 07793805341.
By tyronepro
Mon 28th Jan