We are glad to announce that wexford hurlers Lee Chin and Conor McDonald will be the special guests for the Tyrone'school of excellence'
The Tyrone  U12 hurling 'School of excellence' starts this friday  12th August from 10am-1pm at Garvaghey
The School of excellence is aimed at boys aged 10-12 years old. During the 3 days, Players will receive a great programme of coaching which is aimed to develop all hurling skills. The programme includes Wall ball sessions, Free-taking, Goalkeeping, Attacking&Defensive play, Flexibility and body-strength exercises.
The cost for the School of excellence is £10 per player. Each player will be rewarded with a wristband and a t-shirt which will be presented by a top-inter county hurler.
Any inquiries contact Aidan at Aidan.kelly.hda.tyrone@gaa.ie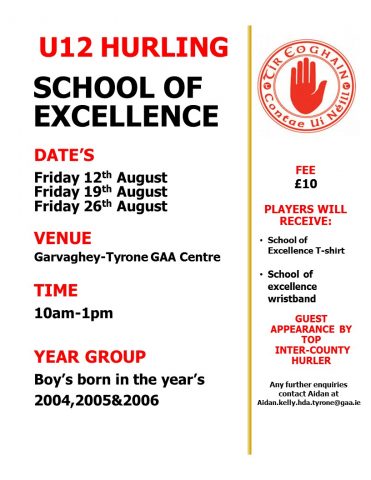 By tyronepro
Mon 8th Aug