Turnstiles open at 13.45pm
Throw In 3.30pm
Event Ends 5.45pm
Ticket Info;
Tickets will be checked at street cordens prior to entry to ground.
Entry to the grounds is by ticket only.
Tickets will not be available to purchase on the day

Terrace Tickets :
All Terrace tickets (North, East Terrace etc ) will give entry to all terrace areas in MacCumhaill Park. All aisles must be kept free please follow stewards instructions.

Season Ticket and Club + Card Holders must enter the grounds through the designated stiles which will be clearly marked. Season Ticket & Club Plus holders must enter via the Jacksons side of the ground ONLY not addmittance to the stand from the terraces.

Entry To The Stand is only available from the Jackson's/ Villa Rose entrance. There will be no access to the stand from the MainEntrance/McCumhaill's side of the ground under any circumstances or vice versa.
 
Patrons Travelling to the McCumhaill Park:
All patrons travelling to McCumhaill Park for the event are advised to arrive early as a large crowd is expected. Patrons are asked to obey the instructions of stewards & Gardaí at all times. Please allow plenty of time for your journey. Please check your route before travelling as some routes may experience delays due to road works.
Parking
Please note that McCumhaill Park has limited parking within the grounds
No vehicles will be allowed to exit the grounds for at least 30 minutes after the end of the game.
The Official Car Park is the Church Car Park Stranorlar
Please use the town centre car parks. Please do not park illegally as this will not be tolerated. Please see attached maps.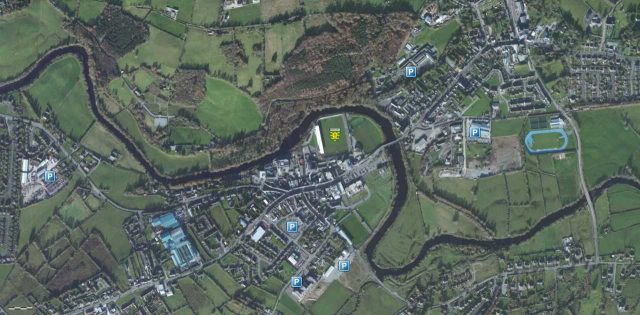 Residents:
Patrons are requested to be aware that McCumhaill Park is located in a residential area. Patrons attending at McCumhaill Park are requested to respect residents by behaving in an appropriate manner when going to and departing the grounds. Issues such as illegal parking, anti-social behaviour, drinking and urinating in public cause difficulties and will not be tolerated by Gardaí. Patrons are asked to desist from such behaviour.

Special Needs Parking:
There are 15 disabled parking spaces in McCumhaill Park Car Park which can only be accessed from the Jackson's/Villa Rose entrance. To gain entry to this area you must be a holder of the Patrons using this facility should be at the grounds 2 hours prior to the event starting or admittance cannot be guaranteed.
Bus / Coach Parking:
There are no specific bus or coach parking areas around McCumhaill Park. Coaches must not be parked in a manner which could lead to disruption. Patrons travelling to the above event by coach should be dropped off at a pre-arranged point and should return there once the event is over.

Pre Event Traffic Restrictions:
As with all events at McCumhaill Park, a Garda Cordon will be in effect on the streets that lead to the grounds. Only accredited vehicles will be permitted to pass by this cordon. All vehicles will be checked for accreditation.
Garda No-Parking Cones will be placed on roads in the vicinity of McCumhaill Park to allow for the safe movement of patrons & vehicles.
Local residents, their immediate families, local business community will be facilitated at the barriers with proof of address. However proof of address does not guarantee entry through the cordon where high pedestrian volumes exist.
During the hours of operation of the Garda Cordon, vehicles, bicycles, skips, bags, bins or any other items which are causing an obstruction or which may become a trip hazard will be relocated or removed
End of Event Crowd Movement:
Gardaí and stewards will be available to assist in all areas. Please expect delays of up to 45 minutes after the game due to the expected volume of traffic.
Please be patient at the end of the event. Follow instructions from Gardaí and Stewards"
Patron Search:
All patrons entering the Garda cordon will be the subject of a ticket check by Stewards and search by Gardaí. Any offensive articles, e.g. glass bottles, air horns, large flagpoles, flares, vuvuzelas will not be permitted. Patrons are advised not to bring any unnecessary baggage with them and are advised to travel early to the grounds to avoid any unnecessary delays.
Public Order:
Patrons are asked to have consideration for local residents and refrain from anti-social behaviour.

Patrons should also comply with the directions issued by Gardaí and stewards as they depart the grounds. Again, the directions are issued with a view to making the grounds environs a safer place during patron exit from McCumhaill Park.

 Patrons are reminded to remain off the pitch at  the end of the game.

We would like to take this opportunity to thank you for your continued support.
By tyronepro
Sat 4th Aug