COISTE CHONTAE THÍR EOGHAIN
Coiste Cultúir agus Teanga
Scór na nÓg and Scór Sinsear
BUSY TIME FOR SCÓR IN TÍR EOGHAIN
This coming weekend sees the beginnings of a hectic schedule for Tír Eoghain clubs in concluding stages of both Scór na nÓg and Tyrone Semi Finals of Scór Sinsear.
On Saturday morning sees a very early start for the Tráth na gCeist team from Augher and the Ceol Uirlise team from Donaghmore.
The quiz event takes place in the Hall 1, Waterfront Theatre, and beginning at 11.00 am. Teams are required to register at 10.15 am so this will mean a very early start for the McCaughey, McNamee and O'Brien households in Augher. This is a first venture for the Augher club in an All Ireland Final series of Scór. The event itself has become a huge event with teams from all thirty two counties of Ireland taking part. The questions will be difficult but there is no doubt that if the boys perform as they did at Tír Eoghain Count Final level, they will do themselves, their club and their parish proud. Ádh Mór libh ar an lá.
"The Augher quiz team show their Tyrone Quiz medals following their County Final victory"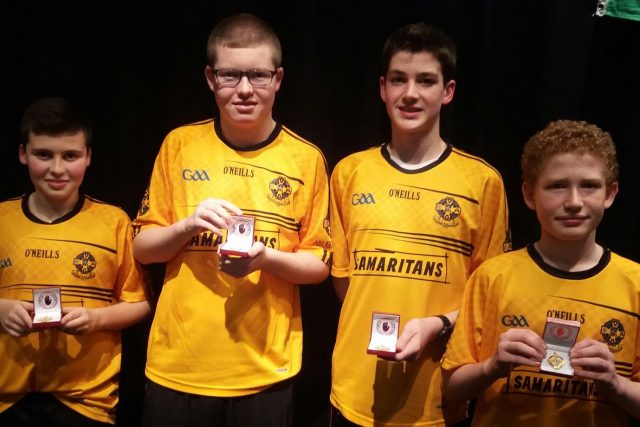 The final itself will begin at 11.00 am and should finish around lunch time. Admission to the final is free and all supporters should be seated in place from 10.45 am. Vocal support is vital in any event such as this so all available support should attend.
Prize winners for this event will be presented with their medals at the main medal ceremony following the Scór finals in the main arena following the naming of the winners in the other seven sections
There will be no less excitement in the McCrystal, O'Donnell and Murray household from Donaghmore as they also will have an early start in the Waterfront Hall in the Ceol Uirlise event. They will begin with a sound check and early rehearsals on the main stage at the venue from 10.45 am so they too will be leaving home at an early hour also… Unfortunately no one will be permitted into the Arena at this stage and all must wait until the doors open. For all supporters try to get there early and bring your strong Tír Eoghain voice with you. There will be a big Tyrone support at the event from both Donaghmore and Augher as well as from some other Tír Eoghain clubs.
"Donaghmore Ceol Uirlise Group following their victory in the recent Ulster Final at Galbally"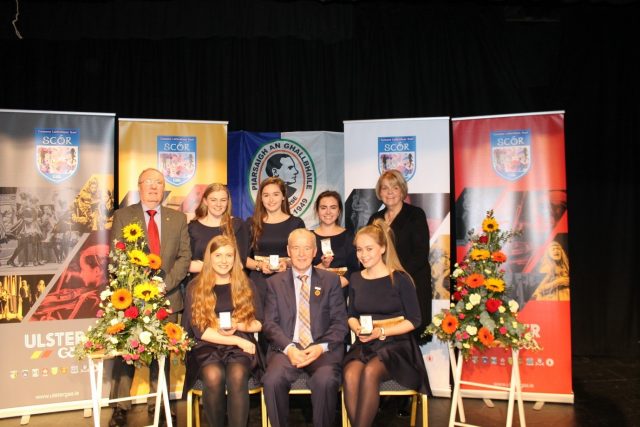 The arena is huge with a seating capacity of 2500 which will be largely filled out. Amhrán na bhFiann will be sung at 3.00 pm sharp and thus begin a hugely entertaining evening of our Irish heritage at its very best…
Good luck to all our competitors and supporters and with luck we could be heading home on Saturday night with two further All Ireland titles to go along with the hugely impressive list we already hold.
Meanwhile on the Scór Sinsear front the first rounds were held in Newtownstewart and Cookstown last weekend and the usual spread of talented musicians, singers, dancers and performers were on show. The talent is there and will be on show again on Friday 17th February at 7.30 pm in Aughabrack Parish Hall and again on Sunday 19th at the slightly earlier time of 7.00 pm in St Mary's Hall in Stewartstown.
The full list of qualifiers and the venues is currently posted on the Tyrone website. Both these events will provide very entertaining evenings and we would encourage all to come out and support these events and see the adults in our clubs provide us with their equally exceptional talents.
The Tyrone County Final of Scór Sinsear will be held in Dún Uladh Centre on Sunday 5th March starting at 3.00 pm sharp.
By tyronepro
Thu 9th Feb