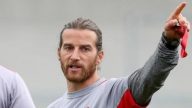 Highly rated Strength and Conditioning coach Jonny Davis has joined the Tyrone backroom team.
Senior football manager Mickey Harte confirmed the appointment and welcomed the arrival of the former Ulster Rugby S&C coach.
He is the latest addition to the backroom set-up, following the arrival of former Antrim attacker Kevin Madden last month.
"Jonny comes highly recommended from different sporting backgrounds," said Harte.
"I know he does come from a rugby background, and quit early because of injury, but he also has a sporting mentality, and whatever adapting needs to be done, he can do that for gaelic games."
"And it's not necessarily game-specific, it' conditioning-specific that he's interested in.
"He is able to get rugby players and road racers up to top level, it's about getting people to perform at the highest level.
Davis will work closely with the medical team at Garvaghey in a wide remit, with injury prevention a major aspect of his brief.
"It's not just about conditioning people, there's injury prevention, and helping with rehabilitation, liaising with the medical people to make sure that there's as few injuries as possible, and that when they occur, they return to play as fast as possible.
"So it's a team effort, he'll be joining with the medical people that we have, the physios and doctor, and working together with team in that team as much as anything else."
By tyronepro
Wed 16th Oct