Lough 1Wall Showdown Tournament & Registration
The Lough 1Wall Showdown Tournament in 2015 will take place over the weekend of 17th-19th July with the vast majority of matches scheduled over the Saturday and Sunday.
Lough 1Wall Showdown
FINAL Registration Night: Wednesday 8th July 2015
7.15pm – 8.15pm at the Lough One Walls Arena
A host of the top handballers in Ireland are already confirmed for a top class renewal and following an outstanding weekend of action at the brilliant GAA Handball One Wall Nationals, there is sure to be a great buzz surrounding the weekend Loughmacrory event.
In addition to a major weekend of one wall handball action and entertainment, there will also be a Kids Coaching Camp scheduled from 2pm to 6.30pm on Thursday 16th July 2015.
http://loughmacrory.com/lough-1wall-showdown-gaa-handball/
Check out full details, entry forms and info on the link above…
Entry Fees: £20 Adult Grades / £10 Junior Grades
Lunch & refreshments will be provided for all players over the course of the tournament from 11.30am to 2.30pm each day.
Entry Deadline: Wednesday 8th July 2015, 9pm
Email queries to here or
loughmacroryonline@gmail.com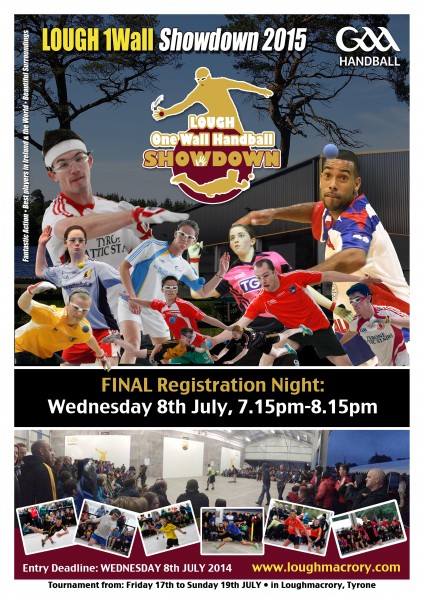 By tyronepro
Tue 7th Jul