Loughmacrory captured the All Ireland division one feile handball title in stunning fashion in County Cork last weekend as the club enjoyed one of the finest days in its proud history.
The Lough under 14 team produced a memorable performance to capture the prestigious All Ireland division one feile title in a thrilling national decider in Fermoy.
It was one of the largest handball féile events of all time with 78 teams taking part, featuring almost 400 boys and girls, with 350 fixtures staged across nine venues in Cork and Limerick.
Loughmacrory, captained by All Ireland under 14 singles champion Gary McAleer, arrived in Fermoy with expectations of doing well in the elite grade but they were up against very stiff opposition from Galway, Kilkenny, Clare and Cavan.
Last year's All Ireland Gael Linn winning duo, Eoin McElholm and Dearbhail Fox, were the first doubles pairing to take the court for Loughmacrory in leg one of every match and they performed superbly throughout the day.
Gary McAleer and Ruairi McCullagh were the second Lough doubles team in every match and finished the whole tournament with a fabulous 100% record thanks to some outstanding displays.
Loughmacrory booked their place in the final with victories over Tuamgraney from Clare and defending champions Abbeyknockmoy from Galway, along with draws against Kells from Kilkenny and Kingscourt from Cavan, which meant that they sealed second spot in the group, ensuring a winner takes all clash with Kingscourt in the All Ireland final.
The Cavan lads were warm favourites to take the top feile prize, based on their blistering form throughout the day but Loughmacrory knew they had the beating of them if everything fell into place.
So the two best under 14 teams in Ireland were all set for an evening showdown to decide the destination of the All Ireland Cup and what a gripping contest the eight players served up, generating a fantastic atmosphere as the result remained in doubt right to the very end.
Loughmacrory got off to a dream start when their first pairing of Eoin and Dearbhail swept into a stunning 8-0 lead, with Dearbhail's serves and Eoin's movement and intelligent play all over the court giving their side the early initiative.
Kingscourt began to settle and work their way back into it and although
Eoin and Dearbhail fought hard, Kingscourt drew level and began to move away to register a 21-9 score.
The first Loughmacrory pair had done their bit for the team cause but it all came down to Gary and Ruairi to overturn the deficit in the second leg. It was a tough challenge for them but their efforts were nothing short of heroic as they set about their task.
It took a few minutes for them to get going but at 4 points each they began to pull clear from the All Ireland under 14 doubles champions to reduce the overall gap. What followed was a truly magnificent doubles performance from the Loughmacrory duo as Gary stamped his authority on proceedings with a flawless exhibition of handball, ably supported by Ruairi who excelled at the front wall with a series of brilliant picks and kills.
They just couldn't be stopped as they sealed a  21-4 victory, giving the club a remarkable 30-25 aggregate success over the title favourites.
The scenes of jubilation at the end showed how much this triumph meant to the Loughmacrory contingent as they celebrated a third division one feile success in 35 years, and a first since 2003.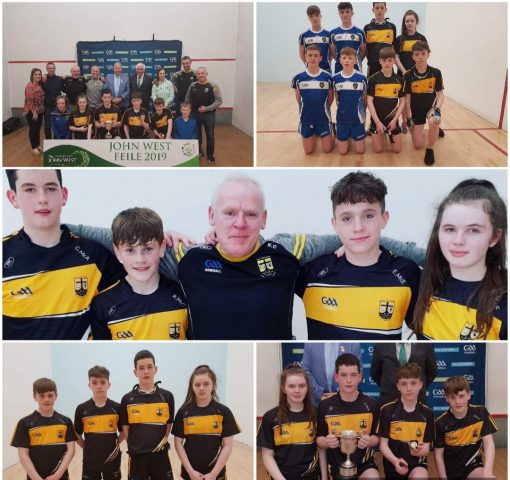 By tyronepro
Tue 18th Jun