Next Tuesday 16th December sees the launch of the new book "The MacRory Cup – The Story of Ulster Colleges' Senior Football" in the Christian Brothers School in Omagh. The school is taking this opportunity to acknowledge the achievements of its vast array of former players, including Ulster and All Ireland Champions as well as GAA All Stars and Ulster Colleges All Stars. Prominent personalities from the schools' involvement in the MacRory Cup will be present to outline what the MacRory Cup means to them and the life skills afforded to them from their involvement in the competition.
This event recognising the legacy of the MacRory Cup within Omagh CBS will take place on Tuesday 16th December at 7pm in the School Assembly Hall. All former players, coaches and staff are invited to attend. The occasion will provide an excellent opportunity to meet up with former players, friends and colleagues to reminisce about past experiences and renew old friendships. The author JA Walsh will also be present to sign copies of his book.
The MacRory Cup was first contested in 1924, and the inaugural winners were St Patrick's, Armagh. The competition grew out of an annual inter-seminary soccer game between St Patrick's and St Macartan's Monaghan which, in the years after 1916, was played under GAA Rules.
Now in its 93rd Year, the MacRory Cup has since grown to become the most prestigious and keenly contested provincial schools' GAA title in Ireland, and is an integral part of the GAA calendar in Ulster, being televised live now for close on three decades.
This book, for the first time, chronicles the history of a competition which has captivated the minds of generations of students, produced so many memorable contests and rivalries, thrilled thousands of spectators annually, and has been the springboard for the emergence of so many future inter-county stars.
JA Walshe's exhaustive research has produced much hitherto hidden detail which has enabled him to weave a riveting tale of the annual pursuit of this much prized title, and of its leading personalities.
He also traces the progress of each year's winners in the All Ireland series (the Hogan Cup), and, for the very first time, tells the story of the Colleges' Interprovincial Championship which illuminated the period 1927-1956.
Walshe is a former history teacher and schools' inspector. Now domiciled in Belfast, he is a native of Ruhillmore, Boherbue, Co Cork, and has written widely on a variety of historical topics including 'From Clonard to Croke – A History of St Galls GAC 1910-2010', for which he received a GAA MacNamee Award.
His latest publication will be a must-have addition to the bookshelves of all GAA stalwarts, and particularly for all those former students who have known and experienced the exhilaration and intensity of a MacRory Cup campaign.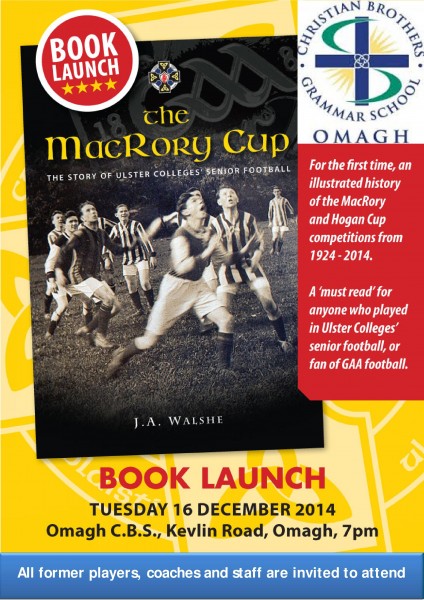 By tyronepro
Mon 8th Dec