COISTE CHONTAE THÍR EOGHAIN
Coiste Cultúir agus Teanga
The Ulster Finals of Scór na nÓg were held in the Silverbridge Harps clubrooms in South Armagh on Saturday night last 12th December at 3.00 pm to a capacity audience.
Clubs from all the counties of Ulster were represented at the finals. Tír Eoghain went into the event with high hopes of success and were not disappointed in their quest. They came away with two Ulster titles to add to the county titles which were won recently at the Tír Eoghain finals at the beginning of December. For these two clubs it will now be practice followed by practice to hone their skills for the All Ireland Finals to be held in INEC in Killarney on 30th January 2016.
Firstly Moy Tír na nÓg, represented by Sean Lynch excelled himself and the Gaels of Moy with his rendition of Pádraig Pearse's Graveside Oration at the funeral of O'Donovan Rossa in 1915. He clearly convinced the adjudicators of his skill and ability for this fine and deeply moving historical piece. This is in fact Moy's first ever County Title, never mind Ulster title at this age group. So a very hearty congratulations goes to Sean, his family circle and the Gaels of Moy. The entire community of the Moy should be rightly proud of his outstanding achievement. We wish him well in his quest for another much sought after All Ireland title to follow in the footsteps of Sadie McSorley from Aghyaran many years ago.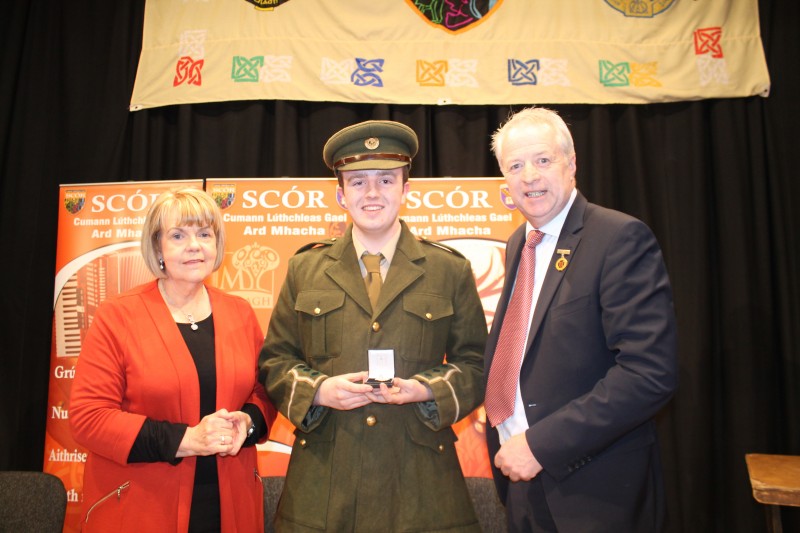 Seán Lynch, Moy Tír na nÓg – Ulster Champion Aithriseoireacht / Scéalaíocht Scór na nÓg 2016
Our next contestants, Donaghmore, were represented in three of the seven disciplines, Amhránaíocht Aonair, Ceol Uirlise and Bailéad Ghrúpa. Niamh McCrystal acquitted herself very well in the solo event and finished a very creditable second place in this event which was won by the competitor from Mayobridge in Co Down. In the instrumental Music section they came up against an excellent, twice All Ireland Champions, Drumhowan from Co Monaghan. On this occasion they came a very creditable second place to the All-Ireland Champions but have no doubt much more will be heard from this young Tír Eoghain group in the years to come.
Up next was the Ballad Group competition in which Donaghmore showed their true talents achieving three first places from the three adjudicators. We wish them well in their further quest for All Ireland glory at the end of January. Many congratulations to these young performers form the Donaghmore St Patrick's Club.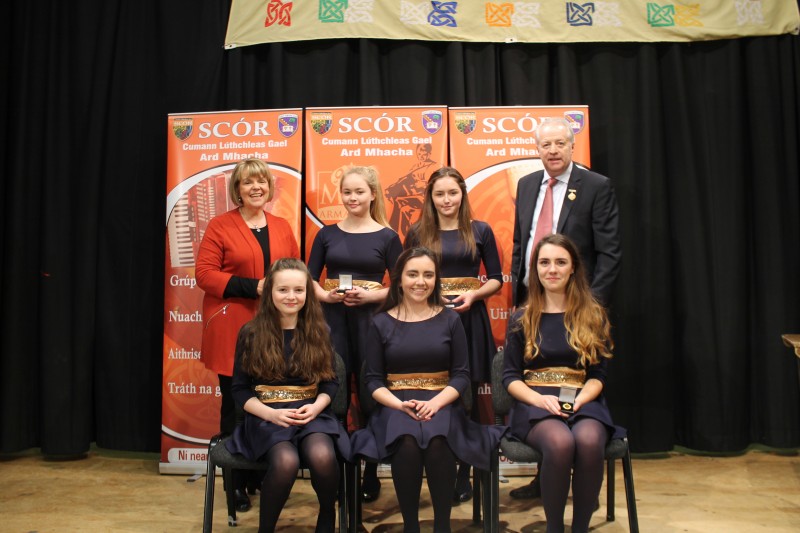 Bailéad Ghrúpa – Domhnach Mór N Pádraig – Ulster Champions Scór na nÓg 2016 pictured with
Ailis Nic an tSaoí, Rúnaí, Coiste Scór Uladh and Mairtín McAvinney, Uachtarán, Comhairle Uladh
No Ulster finals would be complete without contributions from the Omagh St Enda's Club who were represented by two very young and talented groups of dancers in both Rince Foirne and Rince Seit. Although unsuccessful on this occasion there is no doubt that Omagh will be back again next year competing at the very highest levels.
Commiserations then to the unsuccessful groups from Tír Eoghain clubs at this year's Ulster Finals and congratulations to all the winners who now go on to represent their families, clubs, counties and province in the All Ireland Finals..
On reflection the entire Scór na nÓg programme in Tír Eoghain this year proved to be more successful than in recent years with many more clubs coming in to participate in the competitions which in the long run can only be beneficial to clubs and communities in general.
The time has come now for the adult members of clubs to step up and produce the same levels of talent and skill in Scór Sinsear which begins in January with first rounds pencilled in for 15th & 17th January; Semi Finals 22nd & 24th January and County Final on 7th February. Ulster Semi Finals will be held on 12th & 13th February with the Ulster Final on 20th February. The All Ireland Final; will be held in INEC, Killarney on 2nd April 2016.
The full list of Ulster champions at Scór na nÓg for 2015/2016 is as follows:-
Rince Foirne – Silverbridge Harps, Co Ard Mhacha;
Amhránaíocht Aonair – Gabhan Gribben, Mayobridge, Co An Dún
Aithriseoireacht – Sean Lynch, Moy Tír na nÓg, Co Tír Eoghain
Ceol Uirlise – Drumhowan, Co Muineacháin
Léiriú – Cullyhanna, Co Ard Mhacha
Bailéad Ghrúpa – Donaghmore, Co Tír Eoghain
Rince Seit – Ballyholland, Co An Dún
By tyronepro
Tue 15th Dec