Allianz Football League Division One
MAYO 1-10 TYRONE 0-12
By Francis Mooney at Healy Park, Omagh
Mayo struck late to make a big statement of intent in their battle to avoid relegation.
It's two decades since they last lived life outside of Gaelic Football's top tier, and their last-gasp win over Tyrone looks set to maintain their status and preserve a proud record.
Kevin McLoughlin broke the deadlock in a tense battle at Healy Park with the stoppage time winner.
Stephen Rochford's side need a point from their home clash with Donegal next week to be sure of avoiding relegation, while a second loss on the trot for Tyrone has not ruled them out of a place in the Division One Final.
A win at Killarney, along with a few other favourable results, could see them yet feature in next month's decider.
But they will have to find ways to improve their finishing if they are to compete with the top teams. Another modest return of points marked up their lack of potency one again, and another concern is the fact that they have scored just one goal in this league campaign.
It was, however, looking encouraging in the early stages. When livewire corner forwards Mark Bradley and Darren McCurry found the target, but Mayo pressed from deep for Patrick Durkan, Killian O'Connor and McLoughlin to float over scores.
Just after he had brought the home side level, Niall Sludden picked up a black card for a challenge on Lee Keegan, but Keegan himself saw black 10 minutes later after clashing with Ronan McNabb.
Nevertheless, Mayo struck for a goal, Tom Parsons netting on 28 minutes after O'Connor and Andy Moran had combined smartly.
They led by 1-6 to 0-8 at the break, and while the westerners were under pressure for much of the second half, they defended solidly and prospered on David Clarke's short kick-outs.
Tyrone missed a host of chances, finishing with 15 wides to Mayo's six, and paid the price.
At the end of the third quarter, Tiernan McCann sprinted through to give them a narrow lead, but O'Connor was finding the range from placed balls, and his five points were decisive.
The final 15 minutes were tense, with both sides determined to avoid defeat.
However, Mayo had enough ambition to go for it right at the death, and McLoughlin seized his opportunity and finished with confidence and style to snatch what was probably their most important result of the current campaign.
Scorers for Mayo: T Parsons 1-0, C O'Connor 0-5 (3fs, 1 '45), K McLoughlin 0-2, P Durcan 0-2, S Nally 0-1.
Scorers for Tyrone: M Bradley 0-3, S Cavanagh 0-2 (1f), D McCurry 0-2, K McGeary 0-2, N Sludden 0-1, T McCann 0-1, N Morgan 0-1 (f).
MAYO: D Clarke; B Harrison, K Higgins, C Barrett; C Boyle, L Keegan, P Durcan; T Parsons, D Kirby; F Boland, C O'Connor, S Nally, K McLoughlin, A Moran, D Drake.
Subs: S Coen for Higgins (BC 26), D O'Connor for Boland (44), D Vaughan for Kirby (BC 50), A O'Shea for Moran (54), J Doherty for Drake (62), C O'Shea for Nally (68).
TYRONE: N Morgan; P Hampsey, R McNamee, C McCarron; R McvNabb, A McCrory, T McCann; C Cavanagh, M Donnelly, K McGeary, N Sludden, P Harte; M Bradley, S Cavanagh, D McCurry.
Subs: C Meyler for Sludden (BC 15), C McShane for McNamee (52), H Loughran for McNabb (55), J Munroe for McCrory (68).
REFEREE: C Lane (Cork).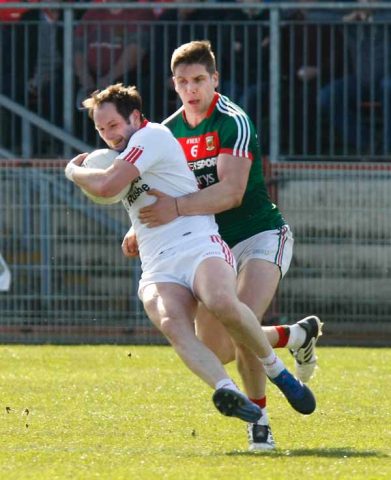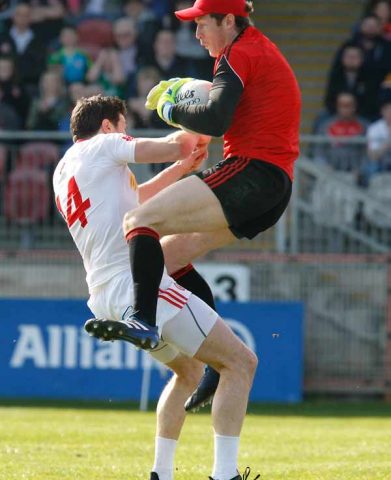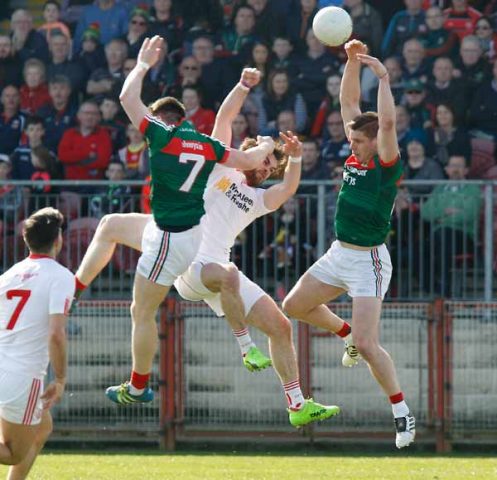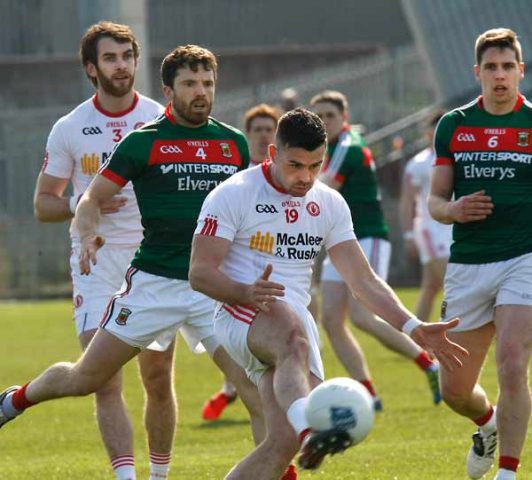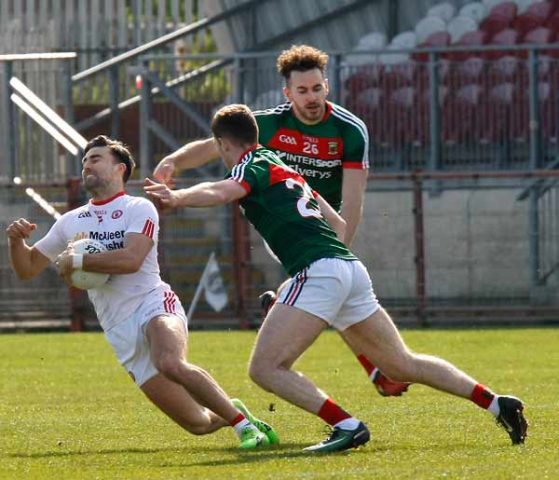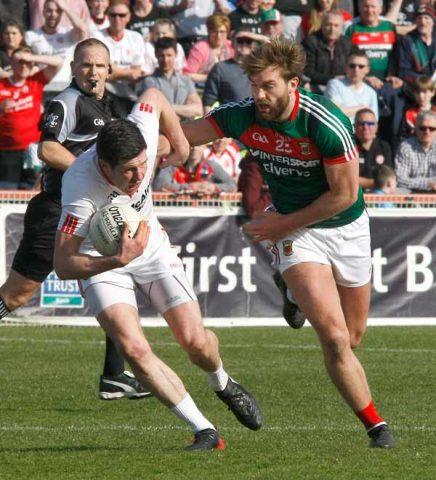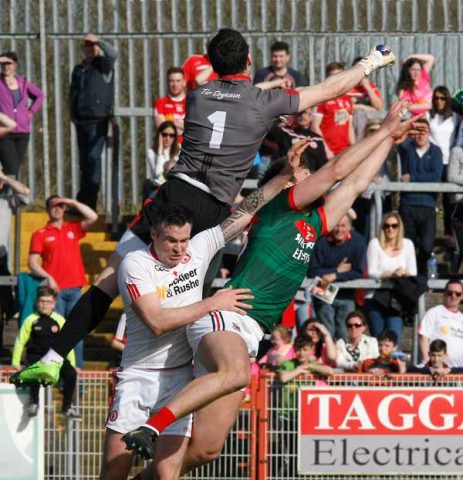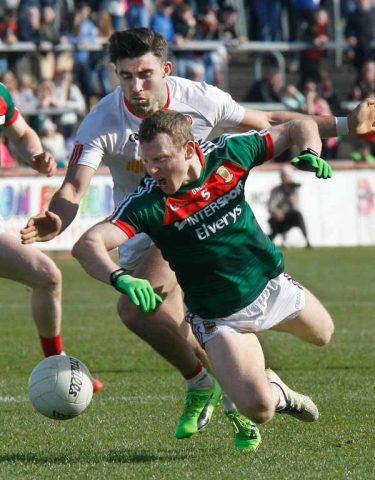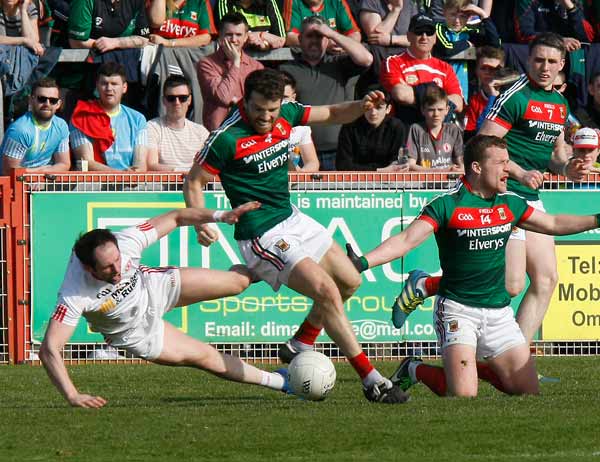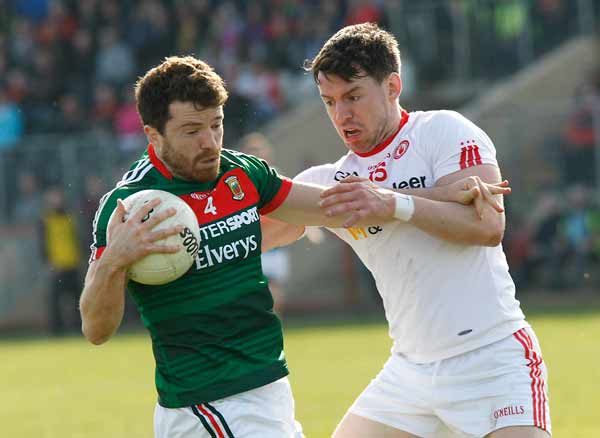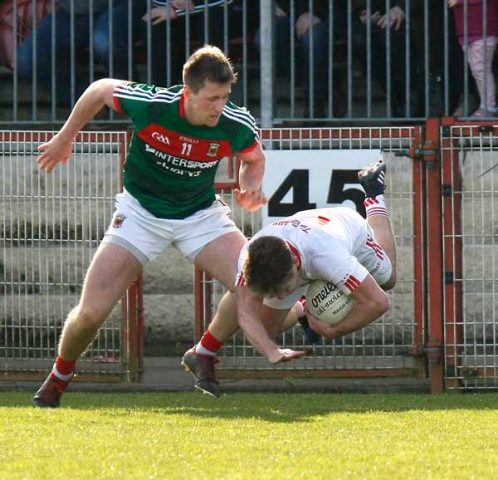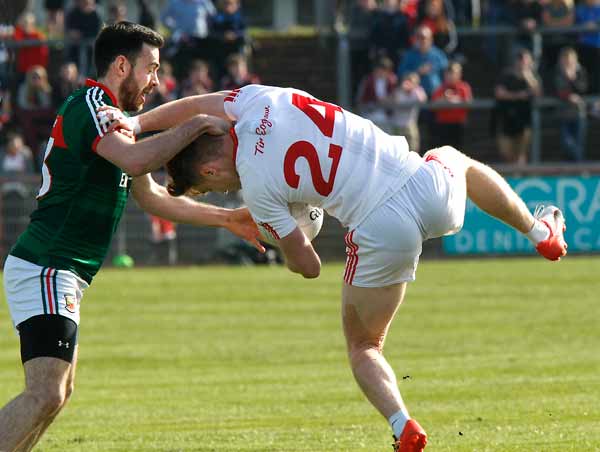 By tyronepro
Sun 26th Mar