Stewartstown Harps present 'Stars in their Eyes', an evening of cracking entertainment that will take place on Saturday 12th November at Coalisland's Parochial Hall at 8.30pm.
Players, club members and local personalities will take to the stage on the night, emerging through the smoke dressed as famous musical acts from every genre and decade.
Nine acts in total will vie for votes from the judges and the audience, each performing a well-known number in an attempt to capture the audience's heart.
The show will be hosted by the talented local entertainer and production director, Brian Morgan, and judged by our very own Kevin Lowe, Sean Og Coyle and Janet Park.
Harps chairman, Martin Campbell, said: "I am very much looking forward to an enjoyable evening at Stewartstown Harps presents 'Stars in their Eyes', a night that will showcase the variety of talent in our local area.
"This promises to be an exciting event which will be sure to entertain, and alos raise funds for our club's future development."
Competing on the night will be individual acts Owen Coyle, Eleanor Kelly, Cealan O'Neill, Declan Corr, Martin Campbell and Malachy Quinn. They will be joined by three groups; senior footballers James Lowe, Tiernan Rush, Macauley Quinn and Sean Rush; girls youth players Courtney O'Hagan, Fiona Devlin, Kelly Dillon and Hayley Devlin; and last but not least, the Harps 'legends' group consisting of Ronan Park, Feargal Logan, Paddy Park, Sean Gallagher and Anthony 'Beano' Quinn.
What only remains to revealed is who exactly that vast array of talent will be performing as!
A fully licensed bar will be there on the night, and tickets are £12 each and are available from Daly's Shop, committee member and performers.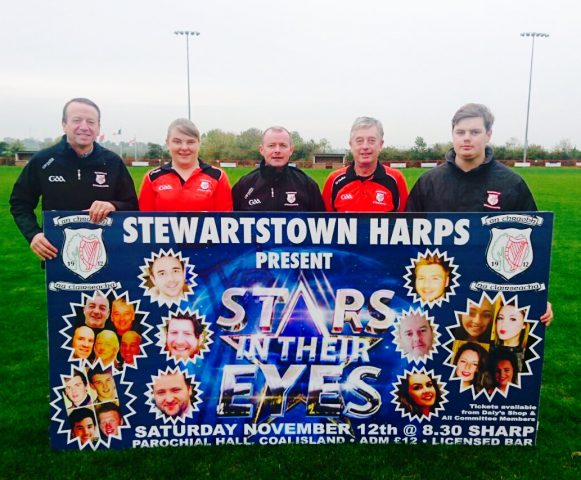 By tyronepro
Thu 20th Oct