Strabane Sigersons G.A.A. Neighbourhood Renewal Project in partnership with the clubs Health & Wellbeing committee organised a very successful Drugs & Alcohol Awareness event in Ballycolman Community Centre last week with twenty-one persons representing a range of organisations that are working and delivering projects within the local community in attendance.
The event was kindly facilitated by HURT (Have Your Tomorrows) with Natasha Howlett the facilitator who engaged with those present to highlight and discuss the current state of play in respect of drugs and alcohol issues.
There was plenty of engagement with many of those in attendance querying what is being done to stop the supply of drugs into local communities such as here in Strabane. The ongoing issue of alcohol abuse and its effect on families was also discussed at length as was the support services for addicts and their families.
On display at the event were numerous drug boxes with replica drugs highlighting some of the many that are available locally and the Beer Goggles were also in use with several in attendance testing them out just to prove how impaired your balance and vision can get when alcohol is consumed.
HURT can be contacted at their Derry office at 14 Clarendon Street on 02871369696 or via email at info@hurtni.org.uk and there website is accessible at www.hurtni.org.uk
They also provide an outreach service at Barrack Street in Strabane.
Warmest thanks to everyone who attended the event, to Ballycolman Community Association for the use of the premises and most of all to HURT for delivering the very informative session that was well received.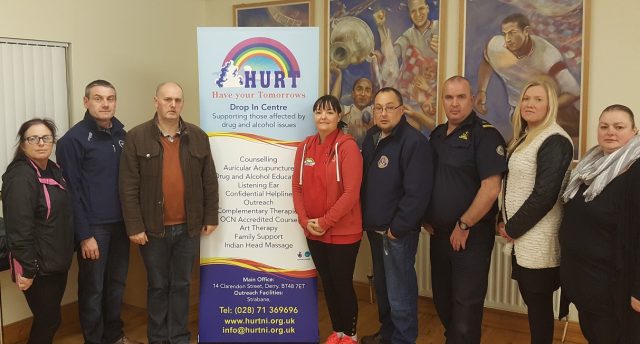 By tyronepro
Mon 28th Nov