Dúchas CLG Thír Eoghain, Cuimhnigh Air Seo: Gaelic Tyrone, Remember This | Tharla Sé Caoga mBliana is an Lá Inniu … It Happened Fifty Years Ago Today
A half-a-century ago today, on 30 July 1972, our Tyrone Senior team took on Donegal at Clones on a wet, wet day in the Ulster Final.
It was our first Ulster Senior Final since 1957 and came after what Joe Martin's history of the GAA in Tyrone aptly describes as the 'Dismal Decade' of the 1960s. In the dozen years between 1960 and 1971 Tyrone made ten Ulster SFC Round 1 exits and won just three Ulster SFC games.
In 1972 it all changed, on the back of serious underage work put in from 1967 onwards.
With Jody O'Neill as manager, we had a 0-13 to 1-7 win over Armagh at Dungannon on 4 June, followed by a quite sensational result, 1-8 to 0-9 over a stellar Derry team, again in O'Neill Park, on 9 July. Frank 'Jake' Quinn scored the all-important goal.
For a new generation of Tyrone people that brought us somewhere very new, the Ulster Senior Final.
It was a 'double day' for Tyrone as our Minors, captained by Frank McGuigan and with Mickey Harte at full-forward, beat Cavan by 3-6 to 1-6. They would go on to lose the All-Ireland Final by 3-11 to 2-11 to Cork.
Played in steady rain and in the middle of what was to turn out to be by far the worst year of The Troubles, Tyrone led in the Senior Final by four points at half-time. But Donegal came much more into things in the second-half and Seamus Bonner's late goal effectively turned the match, which ended 2-13 to 1-11.
It might seem strange now, but that was Donegal's first ever Ulster Senior Football title.
A year later Tyrone were back in Clones, this time making no mistake with a 3-13 to 1-11 win over Down helping complete an historic Ulster Senior/Minor/Under 21 treble.
At the start of 1972 Tyrone had a total of two Ulster Senior, seven Ulster Minor and no Ulster Under 21 titles to our name. We also had two All-Ireland Minor titles.
Fifty years on the numbers have changed totally. Now they read: 16 Ulster Senior, 15 Ulster Under 21/20 and 25 Ulster Minor titles. To that we can add four Senior, six Under 21/20 and a further six All-Ireland Minor Championships.
What we can't forget is how that wet, and ultimately disappointing day in Clones fifty years ago today was such a big part of the journey. And how what we have and enjoy today can be tracked back to those men.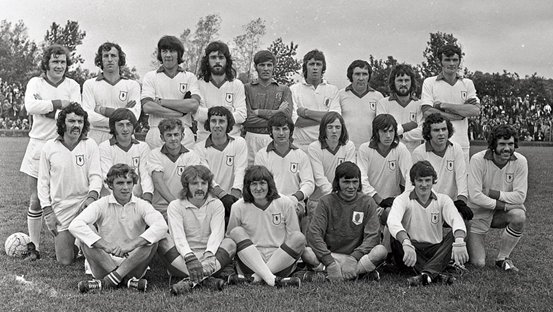 Photograph – Ulster Herald
Back, L to R (numbers worn on the day in brackets) | Peter Harte (21) | Peter Mulgrew (3) | Sean McElhatton (11) | Paddy McMahon (12) | Kieran Harte (1) | Seamus Donaghy (22) | Jackie Duffy (4) | Mickey Hughes (7) | Brendan Dolan (8) |
Middle, L to R | Paddy Parke (17) | Kevin Teague (14) | John Early (15) | Gerry Taggart (6) | MJ Forbes (5) | Hugh Crawford (13) | Patsy Hetherington (10) | Olly Nugent (2) | Willie Mckenna (19) |
Front, L to R | Dessie Bleeks (23) | Jim McCreesh (24) | Frank Quinn (20) | Martin McCann (16) | Pat King (18) |
(Frank McGuigan, selected to start at No 9, is missing from the photo as he had already played in the Minor Final that day)
https://www.rte.ie/sport/gaa/2016/0714/802426-donegal-v-tyrone-1972/
https://www.rte.ie/sport/gaa/2016/0714/802426-donegal-v-tyrone-1972/
By Gerard
Sat 30th Jul