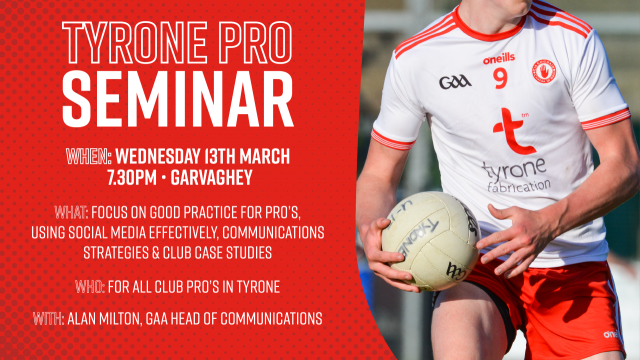 Eugene Mc Connell County PRO speaking ahead of the Tyrone Club PRO's Seminar
Following on from last years highly Successful Club PRO's Seminar the Communications Committee have once again organised a further Club PRO's Seminar for Next Wed 13th Mar at 7.30pm in Garvaghey
Head Of Communications In Croke Park, Alan Milton will be present to oversee the event.
Included on the Clár is
A  general overview to include Good Club/County communications plus a look at the media landscape and a special focus on Social Media.
There will also an overview 0f the National Communications Strategy and an opportunity to give some feedback.
Another segment of the Seminar will look at the NEW GAA App and how Clubs and PRO's can utilise this latest tool to assist them in their Roles. As well as a quick look at Club Web Sites and how they can make the Club some much needed Revenue.
Finally there will be a short overview of  Good Practices and examples of a Tyrone Club PRO and how they get their Communications Messages out to Club Members and Stakeholders.
It is hoped all Club PRO'S ATTEND. Seminar starts at 7.30pm Sharp
By tyronepro
Sat 9th Mar