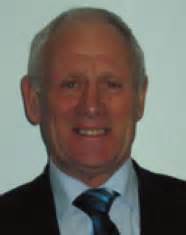 Patsy Forbes: Tyrone GAA's New President
_______________________________________________________________
Tyrone GAA is delighted to announce Patsy Forbes as the County's GAA President for the next five years.
"The role of President is an honorary one" County Chair Michael Kerr explained.
"But it's also a very important role. Our County President not only acts as a figurehead for the GAA in Tyrone but is also an advisor to us, a sounding board for us, someone who sees the bigger picture and who can bring other things into play" he added.
In choosing Patsy as the County's third President (following on from Brendan Harkin and Jimmy Treacy) Tyrone's decision-making is flawless.
Patsy Forbes,
His GAA story alone is startling, running across eight decades from the 1950s. It's littered with achievement. He's played in six (including two replays) Minor Finals for Ardboe, winning three titles. He captained Ardboe to their first–ever Tyrone Senior title in 1968, was part of their 1971-73 three-in-a-row and was still there for the 1983 County Final. He's played for Tyrone at all levels, managed/coached teams at Club and Senior, Minor and Under 21 County level in Tyrone and Derry and been an ever-present behind-the-scenes man. He's also a national GAA 'President's Award' winner.
Very, significantly Patsy has also been absolutely central to three of Ulster's great GAA successes, Derry's totally-pioneering Owenbeg project, Club Tyrone and Tyrone's Garvaghey project (and especially Garvaghey's just-completed Performance Hub). It's no exaggeration to say that without Patsy Forbes, none of those three monumental achievements would be all that they currently are.
"We're always making the point that there's no one way of contributing to the GAA" Michael Kerr continued.
"And Patsy is maybe an unequalled example of how to do that. He has never sought or held an elected position at County level in Tyrone. Yet is there anybody who has done more for Tyrone than this unique man?"
Few people have the energy, enthusiasm, commitment, belief and talent that were bestowed on Patsy Forbes. But fewer still make full use of them.
In a week of Presidential inaugurations, the big winner has been Tyrone GAA.
"The Patsy Forbes The Tyrone Journey"
One of the names synonymous with Gaelic Football in Ardboe, is that of Patsy Forbes. Indeed, Patsy can be rightly regarded as very much part of Tyrone footballing folk-lore. He played with great distinction in the white Jersey of Tyrone through the 1960's and into the early seventies. At club level, he captained Ardboe to their first ever Senior County championship success in 1968.
Patsy started playing for his beloved Ardboe at the tender age of 15, making his debut for the Club's Minor side. During his four-year spell with the Minors, Ardboe reached the County Final on all four occasions, winning two in 1958 and 1960. Patsy had the honour of captaining the 1960 winning side. They also claimed a county league title during this period.
Patsy's talented and driven performances didn't go unnoticed and soon earned him a call-up to the Tyrone County Minor team. Once again, Patsy excelled, and was appointed captain of the County Minors in 1959 and 1960. Tyrone claimed a 1960 Ulster League title.
Having made his debut for Ardboe Seniors at only 16, Patsy quickly cemented a regular spot on the team, fitting training and games in between making home deliveries for his Father's grocery shop. In 1968, he proudly led Ardboe O'Donovan Rossa to their first ever senior County title, lifting the O'Neill Cup after defeating Coalisland on a score line of 1-8 to 0-7. He was also captain for the club's second County title in 1971, beating Carrickmore in the final and was still equally as an important team member in the Ardboe side that went on to record the magnificent 'three in a row' of '71, 72 and 73, under the expert guidance Pasty Breen, Fr Smyth, Sean O'Neill, Greg Scullion and Jim Quinn. Patsy now had an incredible four senior County Championship medals in his collection, all within a six-year period.
Patsy recalls running out with Ardboe in the 1973 Ulster Club Final as a huge honour but admits the highlight of his long playing career was "winning that first Championship medal in 68 as captain. It was the greatest experience of all." During his dedicated club career, along with the four County Championship medals, he also collected six All-County League medals and numerous Fr Peter Campbell, Feis Shields, Jim Devlin and McElduff Cup medals.
On the Senior County scene, Patsy made his inter-county debut for Tyrone in 1960, coming on as a substitute in a Lagan cup game against reigning All-Ireland kingpins, Down. He remained an integral part of the County team for the next twelve years. While looking back on his playing career, Patsy fondly regards Derry's Mickey Niblock and Down's Colm McAlarney as two of the toughest opponents he ever played against at County level. He is quick to stress however, that he was lucky enough to play with fabulous and gifted players throughout his career with both Ardboe and Tyrone, right up to his last club appearance in the 1989 Intermediate Championship.
His love of actively participating in Gaelic games continued right into the next century. From 1990 to 2000, he was involved in the Tyrone over 40's team, actually captaining them to an All-Ireland Final appearance against Kildare. As an all-round sportsman. Patsy could turn his hand to any sport, as he proved by taking up rugby at the age of 36 and continued to play competitively for the next fourteen years. He has also represented Ulster in the boxing ring as a Light Middleweight and has many amateur bouts under his belt.
Always having a love for Athletics and having maintained a high level of fitness throughout his football career, it was only natural that Patsy would display the same vigour on the Athletics track as he had on the football field. He has won thirty-three Irish Master Titles and represented Ireland on many occasions. He won two Silver medals in the World Games in the 100m and 200m in Torino and is also the current holder of three Irish Indoor and three Irish Outdoor records in the 60m and 100m. He also had the honour of carrying the Olympic Torch on its journey in for the 2012 Olympic Games in London. Together, with his long-term running partner, Dessie Ryan, Patsy received awards from Cookstown and Magherafelt District Councils for their achievements in athletics.
When only 21, Patsy formed his new business, manufacturing and supplying domestic furniture in his home parish of Ardboe. In keeping with his character, it is no surprise that he developed the business to the extent, that in its peak, It employed 140 people manufacturing kitchens, bedroom and upholstered furniture for homes and businesses throughout Ireland and the U.K. The business still trades today as Forbes Furniture Group, under the directorship of Patsy's son, Brian, and is a manufacturer and supplier of Contract and fitted Furniture to the Educational, Health, Hospitality and Office sectors. Patsy received a lifetime award from Mid Ulster Council for his contribution to business in 2015.
After marrying Maura Higgins in 1971, Patsy moved to neighbouring Magherafelt. They had three children, Sharon and Claire, and son Brian. Brian was a player on the Magherafelt Minor side that won the Derry Championship in 1992. Five of Patsy's brothers also played for Ardboe, Mickey John, Phelim Hugh, Liam Oliver, Gerry Vincent and Eamon (RIP). Mickey John and Phelim Hugh played for the County at Minor, Under 21 and Senior level.
Patsy's involvement with Gaelic Football didn't end when he eventually hung up his boots (some reckon he never hung them up and is now waiting on the call from Fergal Logan!). While still playing for Ardboe, he managed Magherafelt in 1983, reaching the Final of the Derry Senior Championship. In 1991, he assisted in the coaching and training of Ballinderry, while the following year, he co-managed Magherafelt Minors to a County Minor title. He also coached Derry's under 21's to an Ulster Title in 1993. He went on to Co-manage a Loup side to the Derry all County League Title, defeating a highly fancied Bellaghy in the final. In the Championship Final however, the team suffered defeat against Ballinderry, who went on to claim an All-Ireland Club Title. He also had a term in the 1990's coaching the Tyrone Senior team.
Patsy has been a real driving force behind Club Tyrone, and his tireless efforts has helped to generate huge funding to build the magnificent facilities at Tyrone's Centre of Excellence at Garvaghey. He has also lent his support by sitting on various committees to assist developments at Owenbeg, Magherafelt O'Donovan Rossa, and his own club facilities in Ardboe. He has also been the main sponsor of Ardboe for many a year and is a trustee of the club, also having served terms as Treasurer and Committee Member. Patsy remains a valuable member of Club Tyrone's fund-raising committee and continues to dedicate so much time and effort to generating much needed income for Tyrone GAA. This was recognised when he received the GAA President's award for outstanding commitment and long service across the club and county network.
Patsy has a boundless amount of energy and dedication and his close relationship with the GAA in Tyrone all his life makes him a suitable and deserving candidate for selection to earn the recognition as the new Tyrone County Honorary President. All Tyrone Gaels everywhere want to offer their congratulations and wish him all the best for the next five years. Patsy, as he has done for many decades, will continue to serve his County with pride.
Good luck, Health and Happiness during your term.
EMcC.
By tyronepro
Fri 22nd Jan