McCrystall and Clarke remain in USA Nationals hunt
Breacach duo Gabhain McCrystall and Pól Clarke are the only Irish representatives at the 2014 USA Junior National Championships in Tucson, Arizona. Indeed, Gabhain is bidding to join a very elite band of players who have won back to back US Junior National 19 & Under singles honours while Gabhain and Pól are also out to defend their US 19 & Under doubles crown, won in December 2013. Looking through the grades it must be said the level of competition does look as strong as it has been in some time in the US.
The action got underway yesterday and Pól saw his singles challenge ended at the quarter final stages when losing out to Anthony Collado by 21-13, 21-13. Pol had previously won his round of 16 tie against George Mendiola 21-4, 21-3.
Meanwhile Gabhain, who is seeded at number 1 in the blue ribband event, has been impressive in booking his semi final place so far. A 21-3, 21-2 win over Julio Gutierrez and a 21-1, 21-13 win over Daniel Badillo has set up a semi final test against Tyler Stoffel from Minessota on Monday. The 2013 17 & Under champion, Coleman McGrath and last year's 19 & Under runner-up, Anthony Collado, will contest the second semi final.
Gabhain and Pol are seeded at number 1 in the doubles event and have a tough draw with a quarter final late tonight against California's Daniel Badillo and Rodolfo Ruiz.
PHOTO CAPTION: Gabhain McCrystall picking up his recent Irish Nationals Mens A trophy from GAA Handball President, Willie Roche. Gabhain is in the race to join a very elite group of players from around the world to win back-to-back US National 19 & Under singles titles this week in Tucson, Arizona.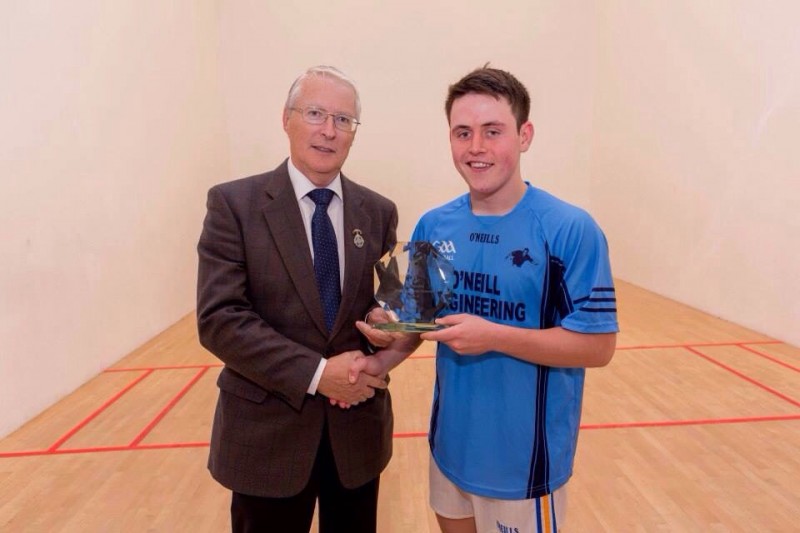 Breacach win All Ireland Intermediate Club title
Breacach Club team of Gabhain McCrystall, Pól Clarke, Johnny Woods and Conor McElduff who defeated Liscarroll of Cork last weekend in the All Ireland Intermediate Club Championship Final in Roscommon. Impressive wins for Conor McElduff in the opening singles, defeating Michael Hedigan by 21-15 and 21-2 set the team up for back-to-back club All Ireland championship titles in this grade. Gabhain McCrystall exhibited his continued brilliant form when along with Pól Clarke guaranteed the title to the club for a second successive year with an emphatic victory.
This caps a remarkable year for all four players and the Club as a whole and pits a large group of players from Breacach into the mix for the prestigious All Ireland Mens Open Club Championship honours from 2015 onwards.
PHOTO CAPTION: The Breacach team of Pól Clarke, Conor McElduff, Johnny Woods and Gabhain McCrystall made it back-to-back All Ireland Intermediate Club Championship successes when defeating Liscarroll (Cork) in the All Ireland Club final last week.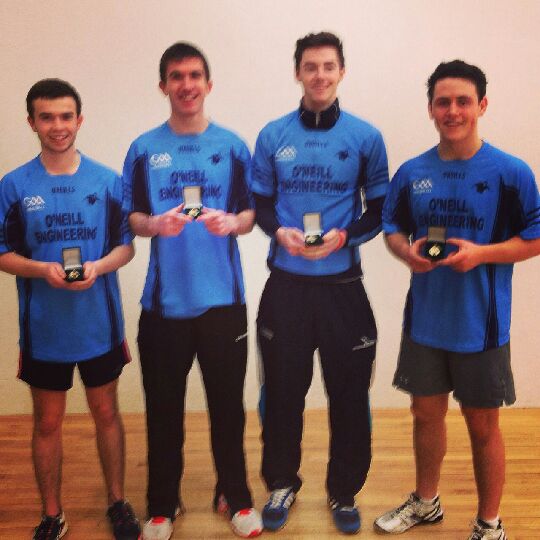 Tyrone Premier League to be decided this weekend
There has been a comprehensive programme of action in the Tyrone Attic Stairs GAA Handball Leagues over the past month across eight divisions and many of the grades will now reach a climax in the coming fortnight.
This weekend will see the blue ribband event decided as the Premier League semi finals and final will be decided in Beragh on Saturday and Sunday. A few key games remain to be played this evening which will decide the semi final line-up in the event for the weekend but at the time of going to press it would appear that Johnny Woods (Breacach) and Conor McElduff (Breacach) will be the number 1 and 2 from Premier League section B with Caolan Daly (Carrickmore), Shane O'Neill (Breacach) and Pól Clarke (Breacach) challenging for the top two places in Section A.
All grades fixtures, final league tables and results can be found on the official Tyrone GAA Handball web and Facebook page.
PREMIER LEAGUE SEMI FINALS
Saturday 3rd January 2015, Beragh, 6.30pm:
SF1: Winner Premier League Section A v Conor McElduff (Breacach)
SF1: Johnny Woods (Breacach) v Runner-up Premier League Section A
PREMIER LEAGUE FINAL
Sunday 4th January 2015, Beragh, 6.30pm: Winner Premier League SF1 v Runner-up Premier League SF2

DIVISION 1 LEAGUE SEMI FINALS
Wednesday 7th January 2015, Beragh 7.30pm:
SF1: Sean Kerr, Breacach v Joseph Kelly, Loughmacrory
SF1: Jack Campbell, Breacach v Martin Toner, Loughmacrory
DIVISION 1 LEAGUE FINAL
SATURDAY 10th January 2015, Beragh, 6.30pm:
Winner Division 1 League SF1 v Winner Division 1 League SF2

DIVISION 2 LEAGUE SEMI FINALS
Sunday 4th January 2015, Loughmacrory, 2.45pm:
SF1: Seamus McCrory, Breacach v Kenny Curran OR Conor McDonnell OR Pauric Mullan
SF1: Conor Kerr, Breacach v Kenny Curran OR Conor McDonnell OR Pauric Mullan
DIVISION 2 LEAGUE FINAL
SATURDAY 10th January 2015, Beragh, 4.30pm:
Winner Division 2 League SF1 v Winner Division 2 League SF2

DIVISION 3 LEAGUE SEMI FINALS
Saturday 3rd January 2015, Carrickmore, 4pm:
SF1: Winner Division 3 League Section A v Runner-up Division 3 League Section B
SF1: Winner Division 3 League Section A v Runner-up Division 3 League Section B
DIVISION 3 LEAGUE FINAL
SUNDAY 11th January 2015, Beragh, 6.00pm:
Winner Division 3 League SF1 v Winner Division 3 League SF2

DIVISION 4 LEAGUE SEMI FINALS
Sunday 11th January 2015, Beragh 4pm:
SF1: Winner Division 4 League Section A v Runner-up Division 4 League Section B
SF1: Winner Division 4 League Section A v Runner-up Division 4 League Section B
DIVISION 4 LEAGUE FINAL
SATURDAY 17th January 2015, Beragh, 6.45pm:
Winner Division 4 League SF1 v Winner Division 4 League SF2

DARK BLUE DIVISION 1 LEAGUE SEMI FINALS
Wednesday 7th January 2015, Beragh 7.30pm:
SF1: Winner DB Division 1 League Section A v Runner-up DB Division 1 League Section B
SF1: Winner DB Division 1 League Section A v Runner-up DB Division 1 League Section B
DARK BLUE DIVISION 1 LEAGUE FINAL
SATURDAY 10th January 2015, Beragh, 5.30pm:
Winner DB Division 1 League SF1 v Winner DB Division 1 League SF2
By tyronepro
Mon 29th Dec