Tyrone GAA Handball News
Tyrone Championship reach exciting climax
A huge programme of championship action continues in Tyrone GAA Handball with  a host of grades down for decision in the coming week in both juvenile and adult level.
Over 200 handballers are in action in the current fortnight period from grades at Boys and Girls Under 10 up to the Masters action. Last weekend saw the Boys Under 13 Singles championship get underway in Carrickmore and eventually saw Cahir Munroe and Brian McAleer emerge to make the 2015 final. Munroe overcame Loughmacrory's Conan McElholm in the semi final while McAleer had a tough semi final victory against Fintan McNamee. The Under 16 Singles championship is the other Boys Juvenile grade which was played down to the final at the weekend. Darragh Canavan showed superb form in his semi final against the number 1 seed, Turlough Clarke, winning 21-19, 21-9 and Cormac Munroe came through the second semi final winning 21-14, 21-13 against Ciaran Cuddy.
The action continues this weekend and will see a big programme of games go ahead in the Boys Under 10 grade, where 48 players in all are competing, with matches scheduled for 11.30am in Loughmacrory on Saturday and section 2 in Beragh on Sunday at 12.30pm. The Under 11 Boys championships are in Beragh on Saturday at 2pm with the semi finals in that new grade on Sunday at 12pm in Beragh. The Boys Under 12 has another large field of players and gets underway on Saturday at 2pm in Carrickmore with the quarter finals and semi finals in Carrickmore on Monday night. At under 14 level, the quarter finals and semi finals go down for decision in Loughmacrory on Sunday at 11.30am. The Under 15 singles semi finals are in Loughmacrory on Saturday at 5.30pm with the Under 17 semi finals in Carrickmore on Saturday at 5pm.
The She's Ace Girls Juvenile championships will also get underway this weekend with the Girls Under 10 in Loughmacrory at 6pm on Friday evening. The Girls Under 11 will also be played down to the final on Friday evening in Loughmacrory, starting at 6.15pm while the Girls Under 14 singles will commence on Monday evening in Beragh at 6.30pm
CLICK HERE For Full Tyrone GAA Handball JUVENILE 40×20 Championship Fixtures 
CLICK HERE For Full Tyrone GAA Handball 40×20 Championship Fixtures SCHEDULES for Court Venues
Tyrone GAA Handball Adult 40×20 Championships
Meanwhile the adult 40×20 championships are also heading down to the latter stages in most grades with a large number of games pencilled in over the current period. The Mens Open Senior Singles Championship will see quarter final action tonight in Loughmacrory at 8.30pm as recent Premier League winner, Conor McElduff, will take on Carrickmore's Ryan Mullan. There will then be two quarter finals down for decision on Friday evening as Caolan Daly faces Johnny Woods and Gabhain McCrystall takes on Shane O'Neill in what promises to be two excellent contests, those two games starting at 8pm in Beragh.
In the Senior B Singles Championship the semi finals were down for decision last night in Beragh, with Breacach's Jack Campbell going for the double in the grade, having won the Division 1 league title two weeks ago. The Junior Singles Championship semi finals were also down for decision last night in Loughmacrory while the first Adult Championship final will go ahead this Friday evening in Killyvclogher at 7pm. The Mens Challenger Singles Championship final is a rematch of the division 4 league final as Breacach's Micky Owens takes on Killyclogher's Liam McCarney. That duo have met twice already in the league this year with the match score standing at one apiece but Owens was impressive in his Division 4 league final win over the Ceapach man. That Mens Challenger final will be followed by the Junior B Singles final with the semi finals in that grade down to be played last night. Next week will see the action continue in both the Mens Minor (U18) and Masters (35+) Singles championships with the doubles championships to commence in two weeks time. The She's Ace Ladies Open semi finals will go ahead next weekend with a She's Ace Finals Day planned for Saturday 21st February in Beragh.
CLICK HERE For Full Tyrone GAA Handball ADULT 40×20 Championship Fixtures 
Ulster Championship challenges still going strong
Meanwhile the Ulster 40×20 Championships continue each week with Tyrone again showing a strong hand in most grades, the singles finals down for decision on the weekend of 14th/15th February and doubles finals on 21st/22nd February. At minor level, Sean Kerr and Jack Campbell have won through to set up an all-Tyrone final following wins against Armagh's Brian McAnenly and Monaghan's Gavin Coyle. Conor McElduff was a most impressive 21-9, 21-3 winner over Down's Sean Digney in the Junior singles semi final and will meet either Barry Devlin or Monaghan's Terry McElvaney in the final. At Junior B Singles level Eamonn McCrory continued his challenge at the weekend too, claiming his place in the final with a 21-6, 21-4 win over  Cavan's Brian Reilly, while Barney Corcoran won his place in the Ulster Silver Masters A final where he will meet Antrim's Paddy Crothers. Kenny Curran will also face an Antrim man, Paddy Nicholl, in the Silver Masters B Singles final. Gabhain McCrystall continued his excellent form when he booked his place in the Ulster Under 21 singles final, following a 21-11, 21-9 win over Patrick McCrory and will meet either Monaghan's Darren Doherty or Antrim's Jordan O'Neill in the final. The Intermediate Singles Championship semi finals went down for decision last night and Tyrone have three players in the semi finals of the grade. Caolan Daly faced Cavan's James Brady in his semi final meeting while Shane O'Neill and Johnny Woods crossed swords in the second semi final.
Tyrone's representatives at the annual All Ireland Gael Linn Tournament in County Clare at the weekend were Carrickmore's Cahir Munroe and Clodagh Munroe. The young pair put in a solid showing too, losing out to eventual champions Kilkenny by 36-32 in the quarter final stages before going on to win the Plate competition.
Next week will see a number of players representing Tyrone schools competing in the Ulster Colleges 40×20 championships. Dean Maguirc College, Carrickmore, Omagh CBS and St. Ciaran's College, Ballygawley, all have strong teams in the prestigious Ulster colleges series with the All Ireland stages then set for Kingscourt on Saturday 14th February.
CLICK HERE For Full Ulster GAA Handball 40×20 Championship Fixtures 
Full details of these fixtures and all the news, fixtures and results from Tyrone GAA Handball can be found at the official page www.facebook.com/tyronegaahandball.
PHOTO CAPTIONS: 
MensDivision4LeagueFinal2015.jpg – Breacach's Micky Owens won the Division 4 league final against Ceapach's Liam McCArney and the duo meet again on Friday evening in Killyclogher at 7pm in the Mens CHallenger Singles Championship Final.
Tyrone Attic Senior Handball Final 12.jpg – Conor McElduff signalled his intent for Ulster and All Ireland Junior Singles Championship success in 2015 with his impressive semi final win over Down's Sean Digney at the weekend. The recent Premier League winner now goes for the double in Tyrone senior handball as he takes on Ryan Mullan in the quarter finals in Loughmacrory tonight at 8.30pm. Two further quarter finals will take place in Beragh at 8pm on Friday evening.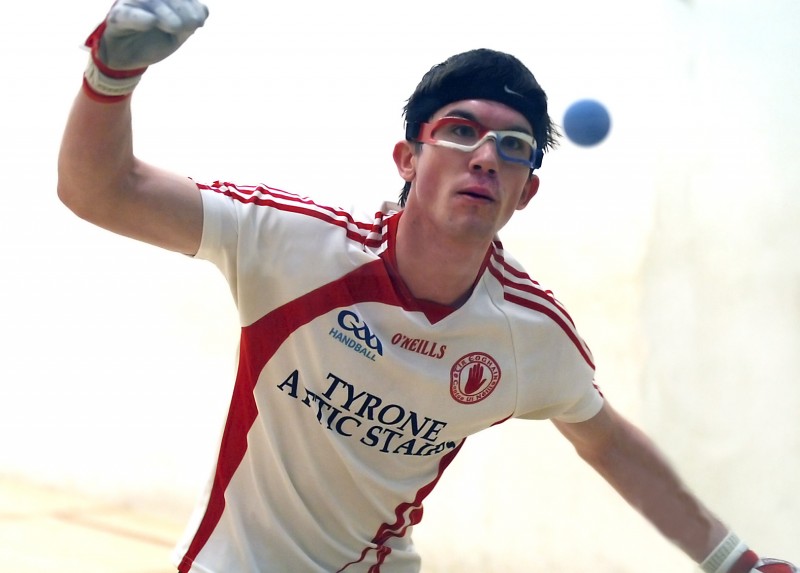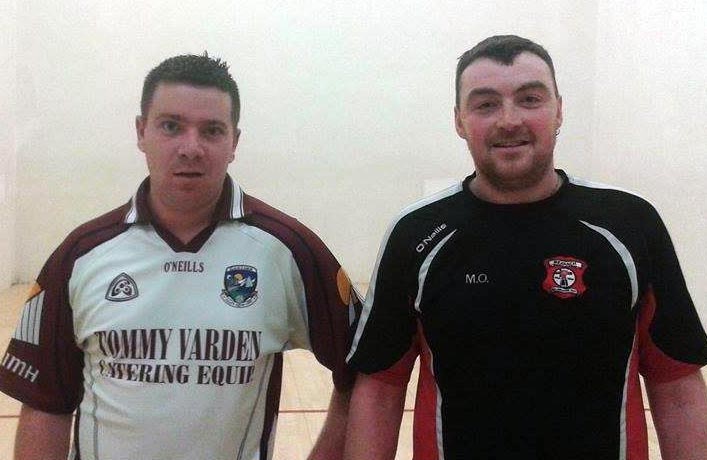 By tyronepro
Tue 3rd Feb