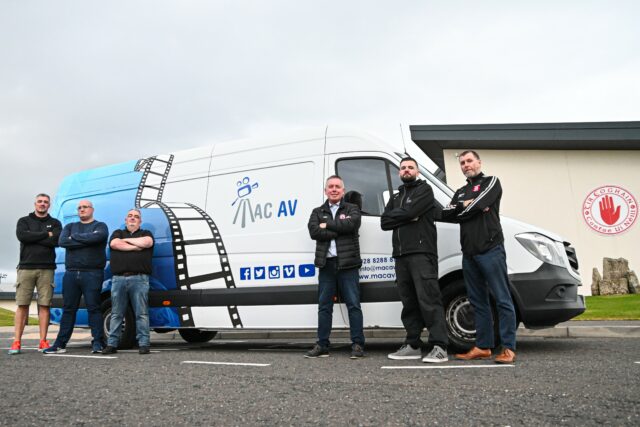 5 years ago Tyrone GAA TV was established and in year one the target was to Stream Live 5 Tyrone Club Championship Games and roll on five years later and Tyrone TV is now firmly established. In 2021 Tyrone GAA TV managed to provide Live Coverage of 47  Club Championship Matches. Gaels all over the world were able to tune in and see the Parish team compete across All 3 Grades.
The popularity of Tyrone GAA TV makes it one of the most successful Streaming Services provided by any County in Ireland. Once again Tyrone GAA TV intend to Stream Live all of our LCC Group Club Championship games in both Football & Hurling.
County PRO Eugene McConnell speaking at the Promotion Launch of the 2022 Coverage, stated once again Tyrone Communications have pulled out all the stops to ensure all Championship games are covered and to assist with this Tyrone TV have brought on board a few new faces to our Commentaty Team, Joining The Commentry team to supplement to existing Commentators will be two Key Members with plenty of previous experience working with TG4, namely Irial O' Ceallaigh a former Waterford native and our own Tyrone Native Conal Martin. Eugene went on to state both Irial and Conal will contribute to much greater exposure of our Native Language which adds greatly to the promotion of our native tongue.
Both Ger Tracey and Paddy Hunter our regular voices on Tyrone TV will again be to the fore. In addition to the Commentators, Tyrone GAA TV have a total of 30 other Tyrone Gaels coming on board as Co Commentators, they include, a host of experienced analyists with a wealth of knowledge relating to the Tyrone Club Championship Scene. The  list of Volunteers include  Archie Beattie, Brian McGuckian, Joe McMahon, Chris Rafferty, Ciaran Gourley, Conleth Donnelly, Damian O'Hagan, Enda Kilpatrick, Gerry Donnelly, Joe Cassidy, John Moylan, Liam Donnelly, Lorcan Martin, Mark Harte, Niall Morgan, Paddy Tally, Paul Devlin, Kyle Coney, Finbar Mc Connell Peter Canavan, Stephen Mc Hugh, Seamus Mc Callan, Stephen O'Neill, Michael McShane, Sean Óg Grogan, Eunan Lindsay.
The new Provider "In Player" will provide all the Technical Back End support and the New Tyrone GAA TV Landing Page will be going live from Thursday 8th September. It will provide the details of all the games on offer and information on how to register and to purchase the matches. The County Committee have passed the pricing structure for all purchases to view the Tyrone Championship games. The cost will be £1 more that the actual Admission charges to the game. For a single Championship game the price will be set at £8 and a double fixture cost will be £10. As the competions progress to the later stages the costs will again be £1 more than what the Admission prices set to attend these games.
The coverage will again include both Pre match analysis and post match analysis as well as Action Replays and some pre and post match interviews. All coverage of the games will go live 10 mins before the actual Match Throw In Time. Live on screen graphics.
The Camera and video work will once again be provided by our own Tyrone Streaming Company "MAC AV" with both Kieran & Darren plus their team covering up to 6 games on one given day.
In our Launch Photo from L – R, is Conal Martin, Eunan Lindsay, Paddy Hunter, Eugene Mc Connell, Nevin Colton MAC AV, Ger Tracey, Missing from the photo Irial O' Ceallaigh.
By tyronepro
Wed 7th Sep