In the Hills above Ballymacilroy and Errigal Keerogue in the townland of Shantavny Irish is located the "Todds Leap Activity & Adventure Centre. A feature of the Community around Ballygawley for the past 30 years. The owner and driver behind the success story of "Todds Leap" is none other than Benny O'Hanlon plus his family members.
Benny and the "Todds Leap" brand have now rowed in behind Tyrone GAA as the New Corporate Sponsor of Tyrone GAA TV & Radio.
Speaking at the Official launch of the New Partnership, County PRO Eugene Mc Connell stated we are delighted and privileged to welcome Benny and the hugely successful "Todds Leap" brand in coming on board to become the first ever corporate Sponsor of Tyrone GAA TV & Radio.
The support offered by "Todds Leap" is a massive endorsement to the Tyrone Communications profile and shows a tremendous confidence in what Tyrone are trying to do in the Communications plus PR & Marketing fields both within Tyrone and much further afield.
Continuing, Eugene stated the Sponsorship offered by "Todds Leap" allows us to further expand the product of Tyrone GAA TV and Radio. Last year Tyrone GAA TV was introduced for our Club Championship and in our first year we managed to Stream live 4 of our Club Championship games as well as the Senior League Final, it is my intention to increase the coverage by 50% which will hopefully mean a total of 9 or 10 games.
In conclusion, Eugene added, "The Tyrone Club Championship is widely recognised as one of the most fiercely contested Club Championships across all grades and the demand amongst not just Tyrone Gaels but others much further afield has been phenomenal. Gaels spread all over the world very much want to be able to tune in and see their Parish team compete in the cut and trust of the Championship battle."
Tyrone GAA TV & Radio has provided a much needed vehicle to be able to produce this coverage and thankfully we have some fantastic volunteers from within Tyrone who assist us in the delivery of a very professional service. Most of these individuals are already household names of the GAA Media front. They are confident and present op quality in all they do. Their presence really adds to the entire occasion. We are able to call upon both Commentators and Co-Commentator's like Ger Tracey, Paddy Hunter, Paddy Hunter, Damian Harvey, Adrian Logan plus Peter Canavan, Joe Mc Mahon, Pascal Mc Connell, Brian Mc Guigan, Enda Mc Ginley, Mark Harte, Conal Martin.
The new partnership, Tyrone GAA TV in association with "Todds Leap" will be streaming live their first big Double Bill on Friday 6th Sept with first up the Intermediate Championship clash involving Clogher V. Greencastle followed by the eagerly awaited Big Local Derby between Dromore V. Trillick.
There is huge rivalry between the Reds and the Blues and their Championship meeting is a game all Gaels will want to see. So If you happen to be exiled or away on Holiday then the Message is tune in to Tyrone GAA TV in Association with "Todds Leap" for all the Action.
The Intermediate Clash between the Éire Óg's V. Greencastle brings together two Clubs pushing hard for success, Clogher having been promoted from Junior grade in 2018 while Greencastle were relegated from Senior in 2017.
It is hoped to stream live the action from as many games as possible over the next few weeks keep an eye on the Tyrone GAA Website for details.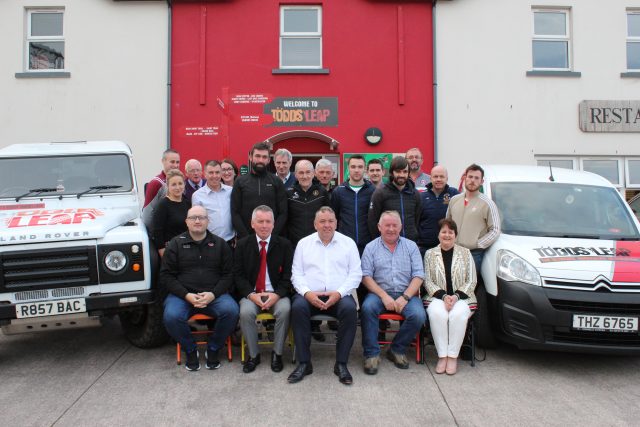 By tyronepro
Sat 31st Aug