All Tyrone Gaels wish to extend their condolences to the Delvin Family on the sudden passing of a great Lough Shore Gael,
Francis James "Dubh" Devlin, Kinturk, Moortown, R.I.P.
Sympathy is extended to his Wife Bell, children, Barry, Sean, Paul, Ciara, Seamus and Susan plus Sisters, May (Devlin), Kathleen (O'Keefe), Patricia (Donnelly) and brothers, Patsy, Sean, Eugene, & Eamon, and the late Christie & Henry RIP both brothers.
Francis was a well known Lough Neagh fish merchant, operating under F.J.Devlin & Sons at his processing factory on the shores of Lough Neagh. At one time Francie had up on 20 fishing boats from the Lough bringing their catch to his factory and Francie processed the fish and exported them to all over. Francie provided regular employment all around the Lough shore in difficult times for many years. Although in his 80th year Francie despite a Hip operation only a few months ago was back at the Fish factory ensuring all was going well and overseeing the daily duties getting the fish landed prepared and ready for distribution.
Away from fishing, Francie held a great love for the GAA and Irish culture.  He was a proud Irish man. In his football days Francie, was a tough No frills player on the pitch, he played for Kinturk St Patrick's and Ballinderry Shamrocks and also Moortown in later years during the early 1970's. Nothing brought him greater joy than to see his sons play and later all his Grand-children such was his love of the GAA.
Francie was indeed a highly respected member in the local community and was delighted to see his son Paul lead Tyrone U.20's to All Ireland and Ulster success in 2022.  The waters of Lough Neagh flow silently on the shores, calm in the memory of a real Legend associated with the Lough all of his Life time.
Suaimhneas síoraí Go ndéanfaidh Dia mhaith air.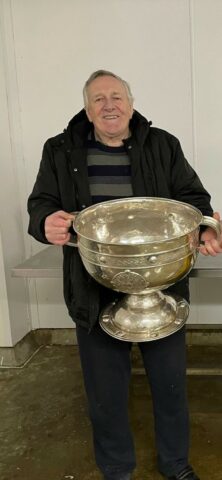 A proud Tyrone man with Sam Maguire. Francis James "Dubh" Devlin, Kinturk, Moortown, R.I.P.
By tyronepro
Thu 6th Oct