Tyrone hold very strong claims in the last big event of the 40×20 season this weekend in Clare. The Irish 40×20 Junior Nationals will go ahead at a series of Clare venues and a comprehensive fixtures list and venues schedule has now been released for the event.
The fact that eight Tyrone players are seeded at number one across the Junior grades, with a record 400+ entries is testament to the strength overall of the county's group of rising young stars making the trip to the banner county. The blue riband grade in the event, the Boys 19 & Under singles, has Breacach's Gabhain McCrystall at the top spot in the draw. McCrystal has excellent credentials in this event having won the US Nationals 19 & under singles and doubles back in January and of course was Irish Nationals 17 & Under champion twelve months ago. Monaghan's Darren Doherty and Cork's Michael Hedigan will pose major challengers in a tough 16 strong field, where Pól Clarke will also put in a bold bid in the bottom half of the draw.
At 17 & Under, in both girls and boys, Tyrone again have the two recently crowned All Ireland Minor singles champions in action. Johnny Woods is on the crest of a wave at present and no surprise to see him at number 1 in the Boys 17 & Under with Clare's Fergal Coughlan and Monaghan's Gavin Coyle in the top seedings. Tyrone also have Ryan Mullan, Niall Allison, Matthew McCartan and Jack Campbell in this grade. In the Girls 17 & Under Maeve McElduff will be strongly fancied and Eilise McCrory and Aoife Kelly will also go in with a shout in a tough grade. Meanwhile Aaron Owens is the number one seed in the Boys 17 & Under grade
The Boys 15 & Under grade also has a Tyrone player seeded in top spot with Breacach's recently crowned All Ireland Under 16 champion, Sean Kerr, a very big contender for the top honours there where Breacach's Turlough Clarke and Carrickmore's Pauric Mullan are also in action. Wexford's Daniel Kavanagh, Tipperary's Jason English and Galway's Diarmuid Mulkerrins are just three of the top challengers in possibly the toughest division of the weekend. In the Boys 13 & Under Singles, Loughmacrory's Antoin Fox is seeded at number two in light of his US Nationals triumph in this division in January with recent All Ireland Under 14 singles runner-up, Ciaran Cooney (Kilkenny), at number 1. Carrickmore's Darragh Canavan and Lorcan McBride will also pose a big challenge for the honours, the latter winning the 11 & Under last season. Meanwhile, Tyrone will deliver a very big challenge in the Girls 13 & Under with Carrickmore's Ciara Mullan, in light of her All Ireland Under 14 final appearance, at number 1 and Breacach's Elizabeth McGarvey also in the hunt in a hugely competitive 16 strong grade. Breacach's Caolan McCartan is seeded at number one in the Boys 13 & Under B Singles while Loughmacrory's Caitlin Conway, Breacach's Meabh McCrystall and Emer Kerr all have solid credentials in the Girls 13 & Under B Singles. Breacach's Michaela McCartan will also go into the Girls 15 & Under B Singles event with strong claims. Tyrone are also seeded at number one in the big field for the Girls 11 & Under doubles with US Nationals 11 & Under champion, Loughmacrory's Mairead Fox teaming up with her sister Dearbhail. Carrickmore's Clodagh Munroe and Clodagh McNamee will also challenge in the youngest division. In the Boys 11 & Under doules division Tyrone will be represented by number two seeds Carrickmore's Cahir Munroe and Lorcan McGarrity with Breacach's Jack Darcy and Jonathan Owens and Carrickmnore's Ruairi Canavan and Cahir Loughran also in that 32 strong field.
http://events2c.com/ireland/event/irish-junior-40×20-handball-nationals/
The action will get underway from 9am on Saturday morning with action throughout the weekend prior to Finals day on Sunday afternoon.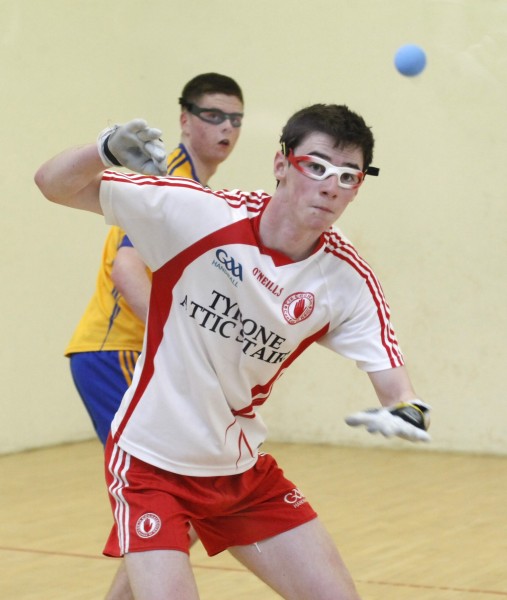 By tyronepro
Fri 11th Apr