The search has begun in Tyrone to find 100 would-be Duncan Bannatynes and Peter Jones' with the launch this week of a new Tyrone GAA initiative to help fund what is seen as the most comprehensive approach to youth football development ever undertaken in Ireland. The funding model is based on the hit TV show 'Dragons Den' and sees generous donors become 'Tyrone Dragons', who buy into the notion that the money they invest into Acadamh Thir Eoghain (Tyrone Academy) will pay dividends in years to come both at Club and County level through an imaginative programme of skills development.
Acadamh Thir Eoghain will be taken forward by over 100 Tyrone GAA volunteers, including many of the County's biggest names. Among the dozen-plus former All-Ireland winners involved is Peter Canavan, who will help oversee the running of the initiative.
Acadamh Thir Eoghain will develop young people in Tyrone as Gaelic players on a 'skills, not drills' philosophy and will operate at four levels; Under 15, 16, 17 and 20 replacing the former development squad set-up. Academy Tyrone will now become the new process for nurturing Tyrone GAA talent.
To remove the initiative from any elitist tags, the 200 young people involved will train in their individual Club kit and will be coached on strength and conditioning, hydration, nutrition, health and well being and even on media, marketing and career development, setting a skills base that they can carry through both their sporting and work career.
Speaking today, Brendan Hurl, Tyrone County Coaching Officer said the initiative emerged from a major review of coaching and development within the County that was carried out last year.
"The report findings provided the kick-start we needed to develop new structures and practices which in turn led us to garner the expertise of scores of individual volunteers to launch and deliver the plan through a multi-skilled and multi-talented team.
"The money generated by our Tyrone Dragons is ring-fenced for Tyrone GAA youth development and is therefore dedicated to securing Tyrone GAA's future".
The Dragain Thír Eoghain funding initiative is spearheaded by Club Tyrone, the PR and Marketing Committee of the Tyrone County Board who were the driving force behind funding the showpiece Garvaghey Centre.
Appealing for Dragons to help finance the project, Brendan was in buoyant mood at the prospect ahead and cited the immense generosity of Tyrone Gaels in the past, hoping the words 'I'm in' will resonate throughout the county.
Anyone who would like to become a Tyrone Dragon should contact: Roisin Dooher on 077 3441 3993 or Mark Conway on 077 1082 1711.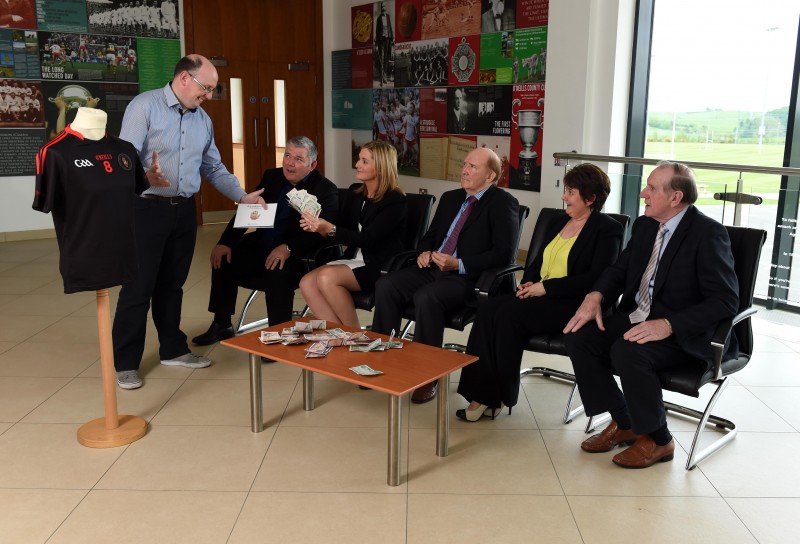 First to say 'I'm in', Roisin Dooher buying into Damian Harvey's pitch for Tyrone's new football development initiative, Acadamh Thír Eoghain (Tyrone Academy). Joined by other Dragain Thír Eoghain (Tyrone Dragons), Mark Conway, Roisin Dooher, Jacky Duffy, Eileen Connolly and John Mulgrew at the launch of an imaginative drive to recruit 50 Dragons over the coming weeks. The Dragons' investment will finance a skills development programme in the County over the next five years that to help nurture Tyrone GAA talent.
By tyronepro
Fri 29th May