Sunday 11th January 2015 @ 2pm in Healy Park, Omagh
1 – Michael O'Neill – Cluain Eo
2 – Aidan McCrory – Aireagal Chiaráin
3 – Ronan McNamee – Achadh Uí Aráin
4 – Cathal McCarron – An Droim Mhór
5 – Rory Brennan – Trí Leac
6 – Dwayne Quinn – Cluain Eo
7 – Peter Harte – Aireagal Chiaráin
8 – Cathal McShane – E R Uí Néill
9 – Padraig McNulty – Dún Geanainn
10 – Mark Donnelly – An Charraig Mhór
11 – Darren McCurry – Éadan na dTorc
12 – Plunkett Kane – Oileán a'Ghuail
13 – Patrick Quinn – Dún Geanainn
14 – Connor McAliskey – Cluain Eo
15 – Shea McGuigan – Ard Bó
16 – Niall Morgan – Éadan na dTorc
17 – Sean Cavanagh – An Mhaigh
18 – Kyle Coney – Ard Bó
19 – Peter Hughes  – Eiscreach
20 – Tiernan McCann – Coill an Chlochair
21 – Emmett McKenna – Eaglais
22 – Niall McKenna – An Domhnach Mór
23 – Ryan McKenna – Eaglais
24 – Justin McMahon – An Omaigh
25 – Barry Tierney – An Omaigh
There are 8 changes from the team that started against Armagh.
Michael O'Neill replaces Niall Morgan in goals.
Rory Brennan and Dwayne Quinn replace Tiernan McCann and Ryan McKenna respectively in the Half back line.
Cathal McShane replaces Colm Cavanagh in midfield.
In attack Emmett McKenna, Kyle Coney, Peter Hughes and Sean Cavanagh make way and are replaced by Mark Donnelly, Plunkett Kane, Patrick Quinn and Connor McAliskey.
After making their debuts as subs last Sunday Rory Brennan, Dwayne Quinn and Cathal McShane make their first starts for Tyrone.
​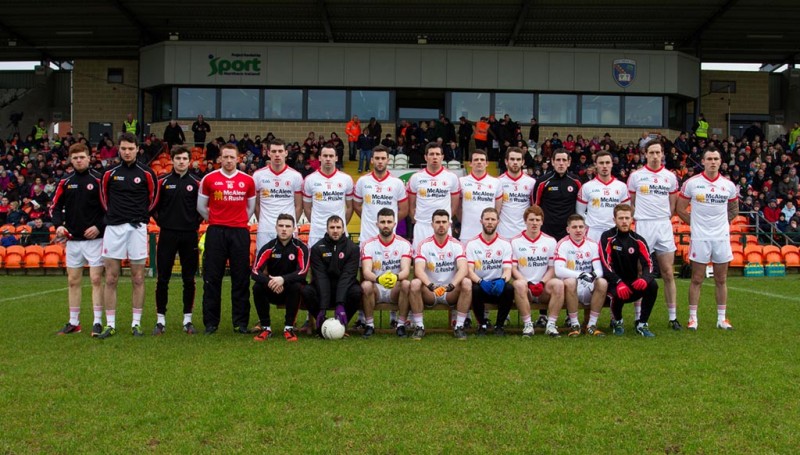 By tyronepro
Fri 9th Jan